Posted by Elena del Valle on October 18, 2013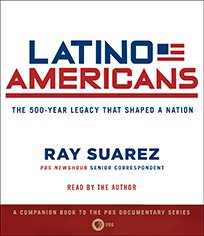 Latino Americans audio book
Photos: HighBridge Audio
In an effort to showcase the role of Hispanics in the history of the United States Ray Suarez, a broadcast journalist, recorded Latino Americans (HighBridge, $34.95) an audio book, as a companion to Latino Americans, a book and documentary television series designed to "chronicle the rich and varied history and experiences of Latinos" by the same name.
The television programs, featuring interviews with several dozen Latinos, aired on public television earlier this year. The unabridged audio recording is based on the book and read by Suarez. The label released it September 2013. It includes nine and a half hours of recording time on eight CDs.
"At the risk of stating the obvious, a television documentary demands to be watched. You must sit in one place and watch as the images accompany the narration. The audio book can, and must, go deeper, as the book does," said Suarez by email when asked why he opted to record an audiobook and not just the documentary.
"Stories that are briefly shown on the television program are explored in great depth in the audio book, and you can consume the audio book while driving, cooking, or taking your daily walk. The audio book goes where you go, and tells you a story whatever you're doing. Already with friends and family members I'm reminded of how many people use audio books, and for a wide range of reasons…from helping to break the tedium of a long commute, to getting around the difficulty of reading small type with less acute eyesight, to just wanting company during daily exercise."
Ray Suarez during the recording of Latino Americans audiobook
In the audio recording, Suarez explores the Latino Americans in early European settlements, Manifest Destiny, Wild West, Cold War, Great Depression, Globalization, Spanish-American War and Civil Rights movement.
Regarding his personal connection with the audiobook Suarez said, "Latino Americans is my third book, but the first of them to become an audiobook. It was an interesting, and sometimes taxing process saying that many words out loud! It made me realize why actors are called upon so often to be the voice of audio books. After all, I had to 'become' everyone I quote in my story, men and women, across 500 years of history. A challenge, a joy, and a reminder of why simple sentences work as good storytelling!"
Suarez is a senior correspondent for PBS NewsHour, and host of the public radio show America Abroad. He has also been host of Talk of the Nation on NPR and a correspondent for CNN.
---
Click to buy audio book Latino Americans
Click to buy DVD Latino Americans
---