Posted by Elena del Valle on November 11, 2011

Aim High book cover
Photos: Laura Contreras-Rowe
After finding financial and career success in real estate and happiness in her personal life Laura Contreras-Rowe, a realtor and business owner from Virginia, looked around and asked herself what she might do to bring attention to successful women like her across the country. She dedicated her energy, enthusiasm, entrepreneurial spirit and $50,000 to a book project.
Ten months later, in 2009, she held the result of her efforts, 3,500 copies of Aim High Extraordinary Stories of Hispanic and Latina Women ($27.95), a 153-page hard cover self published book in which she profiles 33 Latina women of her choosing. As of this writing 3,000 copies are gone and a new printing of the book is due January 2012.
Featuring Bible quotes the book profiles women in varied walks of like. Each profile includes a biography and color photos taken by Contreras-Rowe during meetings with the women.
The profiles are of women in a number of professions such as orientation and mobility specialist, network business how host, basketball coach, former treasurer of the United States, executive at a technology company, executive director of a non profit for boys and girls, artist, chef and catering company owner, executive director of a non profit children's home, life coach and speaker, actor, school psychologist, drag racer, program manager at a girl's non profit, and writer educator and performance artist; as well as deputy manager at a government space program, photographer, graduate student, registered nurse, author, retired school principal and business owner, dentist, dean at a university, publisher, police sergeant, dance teacher and business owner, strategist at a government intelligence agency, business founder and owner, non profit president and chief executive officer, Indy race car driver, lieutenant commander in the armed forces, and attorney.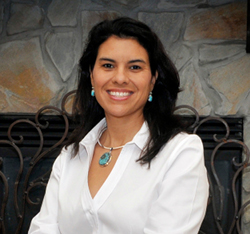 Laura Contreras-Rowe, author, Aim High
The book was recognized with the Independent Publishers Book Awards 2010 Gold First Place in Best Non-Fiction Multicultural Juvenile Youth Young Adult Book; International Latino Book Awards 2010 First Place in Best Gift Book, Second Place in Best Cover Design and Honorable Mention Third Place Mariposa Award for Best First Book; and Latino Literacy Now-2010 Book into Movie Awards and Second Place Documentary Category.
---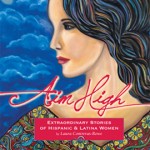 Click to buy Aim High
---