Posted by Elena del Valle on November 11, 2015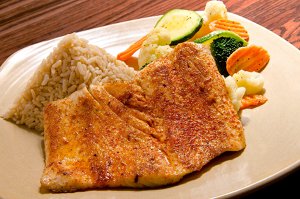 Sergio's Mahi Mahi
Photos: Sergio's Restaurants
Twenty percent of sales at Sergio's Restaurants, a Florida company of Cuban franchise restaurants, are to customers with special dietary needs or preferences. The company caters to people who care about what they eat, be they vegetarian, vegan, lactose intolerant, or paleo-friendly. For example, by the end of November 2015 the restaurants will serve all-natural, hormone and antibiotic free, Wagyu beef fed a vegetarian diet from Jackman Florida Natural Wagyu Beef in Clewiston, Florida.
Citing a Lactose Intolerance: Information for Health Care Providers, a 2006 National Institute of Child Health and Human Development publication that estimates 50 percent to 80 percent of Hispanics suffer from lactose intolerance Sergio's Restaurants recently added products for people who suffer from lactose intolerance.
"Sergio's is always thinking outside of the box in order to better serve our customers – and this means making more options available," said Carlos Gazitua, chief executive officer, Sergio's Restaurants, via email when asked about why the restaurant chain caters to customers with varied needs. "We respect everyone's diets."
Sergio's dishes
Its La Flaca menu offers healthier alternatives to customers including cauliflower rice, baked (instead of fried) dishes and recipes with coconut oil. Some La Flaca dishes are Grilled Chicken with garlic, herbs, and pico de gallo rice; Mahi-Mahi with pico de gallo; and Turkey Picadillo with Lean, Cuban-Style ground turkey.
Target customers range in age between 25 and 50. Staff reach out to customers via Facebook, Yelp, Twitter, and Instagram. The restaurants appear on NBC Miami for Food Presentations and competed in the Tampa Cuban Sandwich Showdown. Founded in 1975 in Westchester, Florida by Blanca Cabrera, Gazitua's mother, and her mother,  Sergio's has six restaurants and two cafes in South Florida. They are independently owned.