Posted by Elena del Valle on June 20, 2011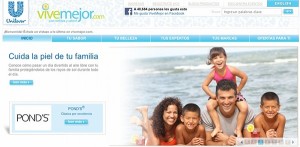 Vivemejor.com, one of the sites where marketers placed ads targeting Latinos – click to enlarge
Marketing efforts by large personal care products companies increasingly have a broad reach, according to Hispanics and Personal Care US January 2011, a Mintel report released earlier this year. That company's researchers concluded marketers of well known brands are presenting their products to Hispanic consumers in English or Spanish in print, online or televised ads.
When targeting Hispanics marketers for brands like Dove, Degree, Pantene, Aveeno and Colgate are relying on online marketing strategies and social networking sites such as Facebook and Twitter, and websites like Walmart.com, Latina.com, or Starmedia.com thinking some members of this market segment may not be watching television or reading print magazines.
An example is ViveMejor.com, Unilever's Spanish-language sister site to complement its online presence at MakingLifeBetter.com. The site promotes personal care products Suave shampoo, Dove, Pond's, and Axe next to beauty tips, social networking links, and food recipes for Unilever food brands.
Another example is the promotional efforts of Axe deodorant featuring humorous and sexy Axe deodorant and shower gel television ads in Spanish and English boosting the newcomer brand's popularity. One in three Latino men are thought to purchase the product.
Anti dandruff shampoo brand marketers for Head & Shoulders placed ads in People en Español, Selecciones, Siempre Mujer and TV y Novelas in early 2008 to the tune of $157,250. Hoping to reach acculturated Latinas aged 18 to 24 on mainstream television marketers for Kotex's U line produced ads featuring women of color. The survey was conducted online in August 2010 among 534 U.S. Hispanic respondents aged 18 and older.