Posted by Elena del Valle on March 22, 2013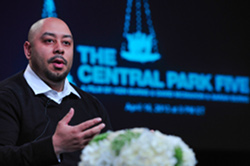 Raymond Santana, one of The Central Park Five
Video and photos: Florentine Films, Rahoul Ghose
In 1989, a white woman was found raped, beaten, nearly naked and near dead in Central Park in New York City. Weeks later five teenage boys who became known as The Central Park Five, Antron McCray, Kevin Richardson, Raymond Santana, Kharey Wise and Yusef Salaam, were arrested for the crime after they confessed following hours alone with police and aggressive interrogation. In 2002, a judge overturned their convictions based on DNA evidence and a confession from an alleged murderer and serial killer. After their exoneration The Central Park men sued the city, the police and the prosecutors. Scroll down to watch a video clip.
The Central Park Five, a 118-minute documentary released November 2012 and scheduled to air on PBS April 16 and become available online April 17, features the story from the perspective of the young men who were teenagers at the time of the crime. In a slow paced, depressing trip back in time featuring interviews with the men, their relatives and a variety of individuals but excluding anyone from the city, the police or prosecutors who declined to appear in the film or present their point of view, the filmmakers take viewers to 1989 New York City. The film will be available in Spanish on the secondary audio channel.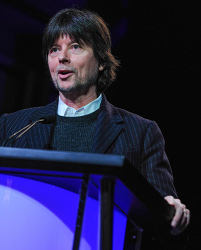 Filmmaker Ken Burns
Others interviewed include New York City Mayors Ed Koch and David Dinkins; Jim Dwyer, Natalie Byfield and LynNell Hancock, journalists; Reverend Calvin Butts; and Craig Steven Wilder, an historian. The film executives and the film were in the news recently after they won a legal victory against New York City representatives who wanted access to film outtakes for use in their defense in the civil suit the young men brought against the city.
The filmmakers were Ken Burns, David McMahon and Sarah Burns. The film was edited by Michael Levine. The cinematography was by Buddy Squires with Anthony Savini with original music by Doug Wamble. Funding for the film was provided by The Atlantic Philanthropies, Corporation for Public Broadcasting, members of The Better Angels Society, including and Bobby and Polly Stein, and PBS.