Posted by Elena del Valle on September 14, 2012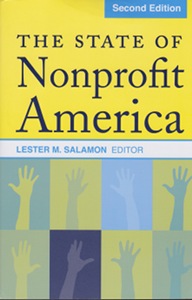 The State of Nonprofit America book cover
In The State of Nonprofit America Second Edition edited by Lester Salamon (Brookings Institution Press, $36.95 ), a 708-page softcover book, numerous researchers, analysts and academics examine the state of our country's nonprofits. To make the publication of the book a reality Salamon partnered with the Aspen Institute's Nonprofit Sector and Philanthropy Program.
Twenty-nine contributors (in the order in which they appear in the book) wrote the 19 chapters spread out into three main sections: Overview, Major Fields, and Major Challenges. They are: Bradford H. Gray, Mark Schlesinger, Donald M. Stewart, Pearl Rock Kane, Lisa Scruggs, Steven Rathgeb Smith, Stefan Toepler, Margaret J. Wyszomirski, Avis C. Vidal, Carmen Sirianni, Stephanie Sofer, Abby Stoddard, Mark Chaves, Elizabeth T. Boris, Mathew Maronick, Alan J. Abramson, Rachel McCarthy, Leslie Lenkowsky, Eleanor Brown, David Martin, Dennis R. Young, Mary Clark Grinsfelder, Kirsten A. Gronbjerg, Kevin P. Kearns, Atul Dighe, Marla Cornelius, Patrick Corvington, and Pascale Joassart-Marcelli.
Lester Salamon, editor, The State of Nonprofit America
"The greatest achievement of the second edition of The State of Nonprofit America is to identify four impulses that are shaping the future of America's nonprofit sector and to assess the future options that face the sector as a consequence," said Salamon by email.
Although there doesn't seem to be an official finite number for nonprofits, in part because many are unincorporated and data is scarce, the editor estimates in the book that by the late 2000s there were nearly 2 million organizations divided into four subgroups: service and expressive; social welfare and lobbying; foundations and funders; and religious congregations.
Nonprofits, Salamon states at the beginning of the book, continue to struggle in an environment that emphasizes profits; and the forces of volunteerism, professionalism, civic activism, and commercialism shape the country's nonprofit sector. Many of the organizations respond with resilience, creativity and resolve; and although most nonprofits are constantly squeezed between their organizational identity and their need to survive the nonprofit sector is robust, according to him. He argues that broader understanding and support are necessary in order to preserve the unique characteristics that make up the individual nonprofit organizations and allow them to thrive in the coming years.
Contrary to what many may believe, relatively few nonprofits represent the needs of minorities or the poor, according to Joassart-Marcelli, assistant professor in the Department of Geography, San Diego State University, and author of the final chapter. He indicates that a disproportionate number of nonprofits serve middle and high income individuals and communities with education, arts, culture, recreation and health amenities.
---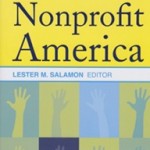 Click to buy The State of Nonprofit America
---