Posted by Elena del Valle on July 27, 2011

A scene from La Sangre de los Templarios
Photos: Vme
Next month programming executives at Vme, a 24-hour Spanish language network partnered with public television stations and available in 10 million homes across the country, hope to capture viewers attention with Estelares Vme, five international contemporary miniseries scheduled to air on four consecutive nights, Monday through Thursday at 9 p.m. (ET/PT), each week. Blood of the Templars, The Tunnel, D'artagnian and The Three Musketeers, Pompeii and Karol will air for the first time in the United States on Vme. Blood of the Templars, The Tunnel, and D'artagnian and The Three Musketeers were produced in Germany in the last decade. Karol and Pompeii were produced in Italy in 2007. D'artagnian and The Three Musketeers and Karol are available on the Vme website at cine.vmetv.com/estelaresvme
The first miniseries airs Monday, August 1 through Thursday, August 4, 2011 La Sangre de los Templarios (Blood of the Templars), tells the story of David, a teen raised by monks without knowing the identity of his parents. When a sample of his blood is taken doctors discover he is the genetic heir that unites the two ancient orders of the Priors of Zion and the Knights Templar. El Túnel (The Tunnel), set in East Germany in 1961, is the story of Harry Melchior, who as the Berlin Wall begins construction, decides to escape into West Berlin. Though his sister, Lotte, and her daughter must stay behind, Harry swears he will return to rescue them. Once on the other side, he and his best friend, Matthis, plan an escape mission to free their loved ones. The series will air August 8 through Thursday, August 11, 2011.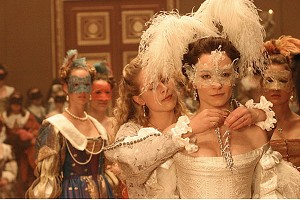 A scene from D'Artagnan y los Tres Mosqueteros
D'artagnian and The Three Musketeers is scheduled to air Monday, August 15 through Thursday, August 18, 2011. The series is based on the famous swashbuckling adventure of Athos, Porthos, Aramis and D'artagnian who strive to save the Queen of France from the sinister Cardinal Richelieu and the nefarious sorceress, Milady de Winter.
In Pompeii, scheduled for Monday, August 22 through Thursday, August 25, 2011, a Roman soldier returns to the the famous resort city after a lengthy absence in search of peace and quiet. Instead he finds a conspiracy that threatens the ideals of a just and honest Rome and the emerging Christian movement. His struggles appear doomed to fail until the volcano erupts forcing the citizens of Pompeii to take a good look at what's really important in life. This series is noted for its special effects and cinematography.
A scene from El Túnel
Finally, Karol, due to air Monday, August 29 through Thursday, September 1, 2011, is a biography about the first man to rise above the Iron Curtain to become pope. The series includes a musical score by Ennio Morricone. Despite an assassination attempt to silence him, John Paul II is said to have helped topple communism, uplift a downtrodden Mexico, aid the destitute and sick in Calcutta and attend to AIDS patients in Africa.