Posted by Elena del Valle on May 17, 2013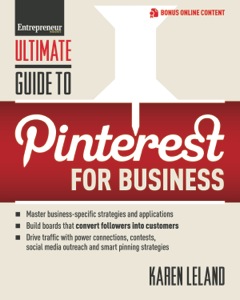 Pinterest for Business book cover
Photos: Karen Leland
Karen Leland, owner of a branding and marketing firm, believes in the power of Pinterest. People love pictures, she says. She points to recent studies that indicate that nearly 20 percent of women using the Internet are on Pinterest, 72 percent of Pinterest users are women, 66 percent of those are age 35 or older, and the average amount of time visitors spend surfing the Pinterest site is an hour.
In Entrepreneur Magazine's Ultimate Guide to Pinterest for Business, a 189-page soft cover book published this year, she set out to create an easy-to-use guide to Pinterest as a valuable source of prospects, promotion and profits. The book that retails for $21.95 is divided into 17 chapters.
"Great business brands are about telling compelling, congruent stories, and Pinterest is at its core about storytelling in pictures," said Leland in a press release. "Pinterest has tapped into this visceral lover of visuals, and no small business, entrepreneur or corporation can afford to miss the boat on bringing what they offer beyond words and into images."
She begins the book by pointing out that the popular social media website is the fastest growing social media website in history. It had 10 million users when she wrote the book. Her promise to readers is: to show them the basics of getting started in Pinterest; building boards that make fans become customers; creating a Pinterest community from activities that drive engagement and appropriate strategies; applications for small businesses; and best practices.
Karen Leland, author, Pinterest for Business
In the final chapter, she mentions a bonus chapter available on her website as an ebook, a podcast with her about opportunities and mistakes, a webinar on the business use of Pinterest and a marketing quiz. She outlines a three-step process to apply her method. She also invites readers to connect with her on social media and to hire her consulting or public speaking services.
Leland is president of Sterling Marketing Group where her clients include AT&T, Apple, American Express, Cisco, Johnson & Johnson, Marriott Hotels and Oracle. She is the author of eight books.