Posted by Elena del Valle on December 10, 2010
Photos: Mark Griffiths, Ph.D., Joanne Cantor, Ph.D.,

It has become common to see people at a conference presentation while at the same time checking emails or texting on their electronic assistant of choice. Multitasking has become ubiquitous with many people who rely on their technological tools and internet access for work and fun. Many drive, walk, shop, wait in line and so forth while talking or texting. Disconnecting while dining, driving, in the movies, on an airplane or at the grocery store is difficult for some. For many business owners and executives traveling with a laptop or access to the internet, even if the trip is for pleasure, is unthinkable.
Workers spend as much as 40 percent of their time online while at work on non-work related browsing, and make more than half (60 percent) of online purchases during working hours, according to a survey by the International Data Corporation (Snapshot Spy, 2008). As many as 90 per cent of employee respondents to the survey said they felt the internet can be addictive, and 41 percent said they spent more than three hours online per week for personal surfing.
While connectivity and technology provide freedom and enhanced capabilities for millions for some they are the tools or the source of addiction, according to a few expert voices softly surfacing.
Does technological abuse exist? Some believe it does. There are those who distinguish between addictions where addicts use the internet as a means for their addiction and those where the person may be addicted to the internet itself. There is more than one kind of technological or internet abuse according to Mark Griffiths, Ph.D., professor, Nottingham Trent University, in the United Kingdom. In Unraveling the Web: Adolescents and Internet Addiction, a chapter in  Adolescent Online Social Communication and Behavior, a book, he and Laura Wydyanto, his co-author of the chapter, address the issue of internet addiction among teenagers.
In a 10-page article, Internet abuse and internet addiction in the workplace, published February 2010 in The Journal of Workplace Learning (Vol. 22 No. 7, 2010 pp. 463-472 qEmeraldGroupPublishingLimited 1366-5626 DOI 10.1108/13665621011071127) he identifies cybersexual internet abuse, online friendship/relationship abuse, internet activity abuse, online information abuse, and criminal internet abuse. He believes internet abuse has the potential to be a serious occupational issue although it has been neglected in research to date.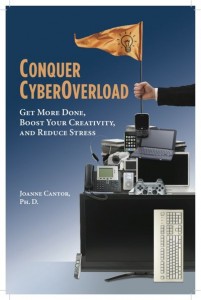 Conquer CyberOverload book cover
In the United States, Joanne Cantor, Ph.D., addresses the topic in Conquer CyberOverload Get More Done, Boost Your Creativity and Reduce Stress (CyberOutlook Press, $12.95), a 92-page softcover book published earlier this year. In 2008, she began doing research for the book and giving lectures based on her findings. In the spring of 2009, after four months of work she completed the manuscript. She said by email that she has received much positive feedback to the book and related presentations.
"I'm getting very favorable reactions to the book, with most people saying how much it relates to their own lives and how useful the tips are. They also find the brain exercises and the recent research interesting and surprising," said Cantor by email when asked about the success of her book.
The ReStart Internet Addiction Recovery Program in Washington, in its second year of operation, is touted as the first of its kind. It offers a therapeutic retreat center stay of 45 days or longer for adults suffering from internet and video game addiction, according the the company website. An anonymous ReStart Internet Addiction Recovery Program website survey of 14,000 visitors indicates 10.6 percent of respondents acknowledged having a problem with excessive use of the internet and 39.3 percent of respondents were open to the possibility that they may have a problem. Some 27.2 percent of respondents said they suffer impairments in everyday life and interaction with others because of their internet or video game use.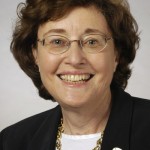 Joanne Cantor, Ph.D., author, Conquer CyberOverload
As a recovering cyber-addict, Cantor believes it is possible to reach a balance between the benefits of healthy use of connectivity and cyberspace and the needs of leading a productive, creative and well rounded life. In her book, she shares strategies that have helped her overcome her former need to be connected.
The book is dived into an introduction followed by five chapters. She starts out by asking some questions to help the reader determine if he or she may suffer from cyber overload. She goes on to discuss the effects of the digital age; why she believes multitasking may be counterproductive; how too much information can decrease creativity; what she considers are the reasons behind cyber stress; and how readers may be able to control their use of technology.
Cantor, president of Your Mind on Media, is outreach director, Center for Communication Research University of Wisconsin-Madison where she was a professor for 26 years.
---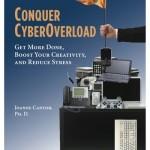 Click here to buy Conquer CyberOverload
---