Posted by Elena del Valle on October 5, 2016
By Ismael El-Qudsi
CEO, SocialPubli.com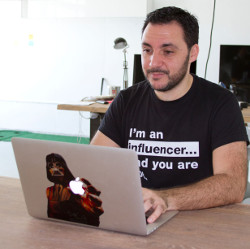 Ismael Elqudsi, CEO, SocialPubli.com
Photo: SocialPubli.com
Word of mouth has always been the best way to communicate a message and in the digital world in which we live, social networks provide a vast arena for communication, collaboration and interaction.
In this busy, crowded social media space, think of influencers as mini megaphones that help to amplify your brand's key messages and online presence. Their endorsements connect your brand to your target market, delivering powerful results at scale.
A recent study (adweek.com/prnewser/study-influencer-marketing-pays-6-50-for-every-dollar-spent/111584 ) revealed that influencer marketing pays $6.50 for every dollar spent. Marketers have taken notice and according to this infographic (theshelf.com/the-blog/2015/3/17/influencer-marketing-is-the-new-king-of-content) by The Shelf, 65 percent of brands now run influencer campaigns.
The influencer marketing space will continue to grow and evolve as marketers perfect their skills and decipher the best practices for campaigns.
Here are five key ingredients to keep in mind for your next influencer marketing campaign.
Click to read the entire article Five key elements for a successful influencer marketing campaign