Posted by Elena del Valle on December 3, 2010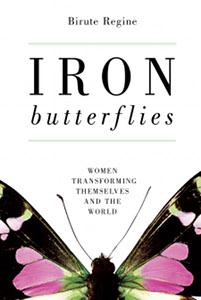 Iron Butterflies book cover
Photos: Prometheus Books
After spending several years in eight countries and interviewing 50 dynamic women in a variety of careers and jobs Birute Regine, Ed.D., a developmental psychologist, wrote Iron Butterflies: Women Transforming Themselves and the World (Prometheus Books, $19), a book describing the leadership styles and way of thinking of the women she believes are contributing to a social transformation and empowering others.
In the first chapter Regine mentions a Mayan and Mongolian prophecy that foretells the Era of Man ends and the Era of Woman begins this year. She believes the new era will be one of cooperation driven by women's leadership style that relies on working together for the benefit of a social group. She is convinced that the feminine qualities that for years kept women out of powerful elite circles will drive them to success in the coming years.
Her 299-page softcover book is named for a poem by the same name by Janice Mirikitani. She believes the title reflects the strength, perseverance, resilience, fragility and beauty of the many women she interviewed for the book. In spite of their diverse lives she concluded the women shared five qualities in common. They are vulnerable, revolutionary, healers, strong and welcome paradox.
Author Birute Regine, Ed.D.
She interviewed women who dedicate their time to art, poetry, yoga, healthcare, nursing, politics, customer service, choreography, diplomacy, peacemaking, designing clothes, human resources, writing, teaching, consulting, making wine, running a non profit organization, running a football team, and being a spiritual leader.
A resident of Massachusetts and New Hampshire Regine is also an executive coach, speaker and the co-author of Weaving Complexity and Business: Engaging the Soul at Work.
---
Click here to buy Iron Butterflies
---