Posted by Elena del Valle on September 23, 2016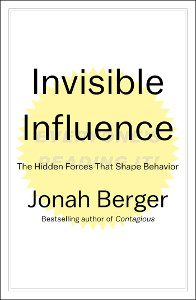 Invisible Influence
Photos: Simon & Schuster, Deborah Feingold
The behavior of others around us affects our own, whether we realize it or not. So believe some researchers, including Jonah Berger, marketing professor at the Wharton School at the University of Pennsylvania. He points out that while firstborn children often perform well academically, have high grade point averages, and score high on exams, their younger siblings tend to pick a non academic path in an effort to stand out. As a result there are few firstborn elite athletes, but laterborn children are over represented in athletics.
In his book Invisible Influence The Hidden Forces That Shape Behavior (Simon & Schuster, $26.99), a hardcover book published this year, he expands on the idea. He wrote the book for anyone trying to influence others or interested in what drives human behavior, the author of Contagious: Why Things Catch On (see Marketing professor explores popularity of things) explained by email when asked about the target audience for his second book.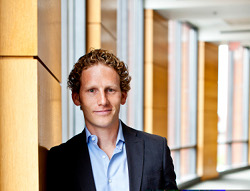 Jonah Berger, author, Invisible Influence
"Contagious is about why products, ideas, and behaviors catch on, and the important role that word of mouth plays in this process," he said when asked about the difference between the two titles. "Invisible Influence is also about social influence, but more about how it shapes behavior without people realizing it, and how people can apply those insights, both at home and at work. We think we make our own choices, but we're actually wrong. Other people often make our choices for us."
The cover was designed to illustrate the main idea of the book: that influence is often invisible. Look at it from one angle and you see the title, subtitle, author name and a reference to his previous book in black and white. Look at it from a slightly different angle and you see the words "everyone's reading it" within a yellow starburst.
When asked to define invisible influence, Berger said, "Any situation where one person's behavior or choices influences another's." In response to how being extroverted or introverted might play a role in being susceptible to influence he said, "A little, but both introverts and extraverts (extroverts) are shaped by social influence."
The 264-page book is divided into five chapters: Monkey See, Monkey Do; A Horse of a Different Color; Not If They're Doing It; Similar But Different; and Come On Baby Light My Fire. Contagious was a New York Times bestseller title in 2013 and named Best Marketing Book of 2014 by the American Marketing Association.
---
Click to buy Invisible Influence
---