Posted by Elena del Valle on June 1, 2012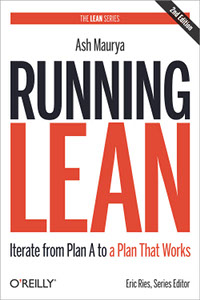 Running Lean book cover
Photos: Newman Communications
Ash Maurya, who has launched several start up companies, is convinced that most new products fail because those that launch them waste energy and resources on the wrong product. Figuring out what products to introduce into the market and how can be done by developing a plan, identifying the high risk parts of the plan and repeatedly testing the plan, he believes. In the second edition of Running Lean: Iterate from Plan A to A Plan That Works (O'Reilly, $24.99), published March 2012 as part of The Lean Series, he explains his thinking on the topic.
The book, written for entrepreneurs, business managers, senior executives, small business owners and anyone seeking to start a business project, presents a process he thinks optimizes the way to quickly outline and define good product ideas, maximizing the chances of success. Most product launches that succeed are ones that adjust their plans before they run out of resources, according to the book.
In the book, Maurya sets out to provide detailed tactics on ways to figure out what potential customers want, how to conduct a good customer interview, addressing issues such as finding the prospects and overcoming mental blocks when speaking to them. Talking to people is important, according to the author who thinks that running surveys and focus groups may seem more efficient than interviewing customers, but isn't the best approach.
Ash Maurya, author, Running Lean
The 206-page hardcover book is divided into four parts: Roadmap, Document Your Plan A, Identify the Riskiest Parts of Your Plan, and Systematically Test Your Plan; and 15 chapters. Maurya, founder, Spark59, has worked closely with entrepreneurs, assisting them to test and fine tune their vision.
---
Click to buy Running Lean
---