Posted by Elena del Valle on November 18, 2011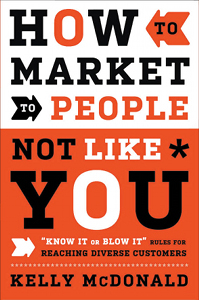 How to Market to People Not Like You book cover
Photos: Wiley
Many marketers believe that for effective marketing it is important, if not essential, to have a clear idea of who the target audience is. The thinking is that knowing who you are addressing as well as his or her likes and dislikes allows you to craft a message that resonates with the end user, listener, reader or buyer and make the message available in a channel convenient to him or her.
Kelly McDonald, an ad executive who counts among her skills multicultural marketing, takes the idea a step further. She proposes Narrowcasting, a way to reach out to a highly targeted group in an optimum fashion. In her opinion it's better to reach a sliver of the market that has an interest in your product or service effectively than to reach a broad spectrum of the population with no interest in what you represent. She explains her ideas and how to implement them in How to Market to People Not Like You "Know It or Blow It" Rules for Reaching Diverse Customers (Wiley, $24.95), a 209-page hardcover book published March of this year.
Her book is divided into three distinct sections: Seven Steps for Selling to New and Unfamiliar Customers, Key Customers Who Could Drive Your Business Growth, and Other Important Market Segments. She starts out addressing the concept that there are likely desirable customers the reader has not thought of and ways to capture them as customers.

Kelly Mcdonald, author, How to Market to People Not Like You
In the second section, she discusses specific groups such as different generations, women, immigrants, Hispanics, African-Americans, and Asians and Asian-Americans. In the final section, she explores groups by political views, sexuality, hobbies and special interests, urban versus rural residents, military versus civilian markets and vegetarian versus meat eaters.
---
Click to buy How to Market to People Not Like You
---