Posted by Elena del Valle on June 7, 2013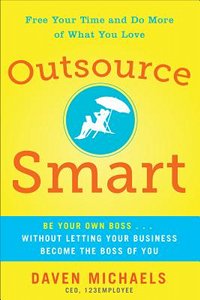 Outsource Smart book cover
Photo: McGrall Hill
Daven Michaels, founder and chief executive officer, 123Employee, believes paying consultants outside a company to do work owners and managers can't or don't want to do will save the company time and money. In Outsource Smart Be Your Own Boss without Letting Your Business Become the Boss of You (McGraw Hill, $22) he explains his thinking. The more an executive can delegate, the better he says in the book. And, the more work a company can hire out the more money it saves on employee costs. In his book, he proposes that for every task there is a contractor available.
The 226-page softcover book published this year is divided into twelve chapters: The Outsourcing Paradigm, The New Definition of Insanity, Outsourcing 101, How to Hire and Train an Outsource VA, Legal and Financial Realities: How To Manage an Outsourced Virtual Assistant, The Marketing Funnel: Outsourced List-Building and List Creation, Outsourced Website Creation and Maintenance, Outsourced Article Marketing and Blogging, Outsourced Video Marketing, Outsourcing the Google Ranking Race, Quality Control in Bad Times, Quality Control in Good Times. 
The author reasons that an executive who is working 16 hours a day should delegate or outsource any task below his pay grade. The alternative is that he is working extra hours at minimum wage performing tasks someone else could be doing more profitably. The top outsourcing countries, according to Michaels, are India, Philippines, Canada, Ireland and Russia followed by China, Mexico and South Africa. Each region, he explains, has areas of specialization.