Posted by Elena del Valle on July 28, 2009
Information provided by our Event Partner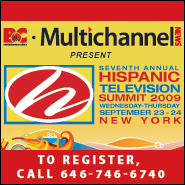 Hispanic Television Summit
September 23-24, 2009
Marriott Marquis Hotel in Times Square, New York
Two leading, television business publications, Multichannel News and Broadcasting & Cable will again co-operatively present the seventh annual Hispanic Television Summit, which has earned the distinction of being the premiere event for those in Hispanic digital video, media and related businesses.
The two-day conference will be held on Wednesday, September 23 and Thursday, September 24, 2009 at the Marriott Marquis Hotel in Times Square, New York.
This year, for the first time, the Hispanic Television Summit is scheduled in tandem with Advertising Week New York 2009 and serves as the Hispanic cornerstone of the week-long series of events and conferences.
As a result of the Summit's affiliation with the increasingly-popular Advertising Week, attendance is expected to exceed the previous record of 400 executives. Attendees of the Hispanic Television Summit traditionally reflect programming, production, research, advertising, agencies, audience measurement, financial investment, and distribution (broadcast TV, cable, satellite, broadband and telephony).
The topics and discussion will be "fresh" and reflective of the current business environment. The theme of this year's Summit is "Generating Revenues For Hispanic TV….From Advertising, Subscription Fees and Transactions". Each of the three keynote presentations and five panel conversations will focus on how Hispanic television continues to make money in these tough economic times.
Keynote presenters will include pay TV, advertising and broadcast leaders like Telemundo's CEO, Don Browne. Panels address topics like – – increasing advertising revenues; marketing pay TV and transactional programming to Hispanic consumers; programming for Hispanic male viewers; driving viewership of Hispanic TV programming through targeted experiential tune-in promotions; and the challenges faced by programmers of Hispanic content for distribution in a multi-screen environment.
Additionally, there are numerous opportunities for networking with other attendees, including several coffee breaks, Wednesday's opening dessert reception (1-2 pm) and cocktail reception (5 – 7 pm) as well as Thursday's continental breakfast (8-8:45 am), and closing Awards luncheon (12:30 – 2:30 pm). A special lounge area is available to attendees for small, informal meetings and casual conversations.
The Summit will open with a keynote address at 2 pm on Wednesday, September 23 and concludes promptly at 2:30 pm on Thursday, September 24 with the Closing Luncheon, Award Presentation and Final Keynote address.
Each year, the Summit presents the Award in recognition for Achievement in Hispanic Television. The 2008 award was presented to Univision's leading anchorperson, Jorge Ramos. Previous recipients also include talk show host, Cristina Saralegui, journalist Maria Celeste Arraras, sportscaster Andres Cantor and Mario Kreutzberger "Don Francisco", the host of the world's longest-running TV program, Sabado Gigante.
Early-bird Registration rates of $399 (save $100) are effective until September 1, 2009 and group discount rates also apply for additional savings. Register on-line at multichannelnews.com/hispanicsummit. The Summit is produced for Multichannel News and Broadcasting & Cable by the Schramm Marketing Group of New York.
Register at www.broadcastingcable.com/hispanicsummit09