Posted by Elena del Valle on September 13, 2013
The Power of Latino Leadership book cover
Leadership specialist Juana Bordas thinks Latino leaders are powerful, distinctive, and offer lessons that can inform other leaders. In The Power of Latino Leadership Culture, Inclusion, and Contribution (Berrett-Koehler Publishers, $19.95) she strives to outline the principles and practices of how, she believes, Latinos lead.
The 261-page softcover book is divided into five main parts and thirteen chapters.
In the book, peppered liberally with Spanish language words, Bordas includes comments from a few politicians and nonprofit Latino leaders. She also shares sayings she hopes illustrate Latino culture, and even notes on how, in her opinion, the Spanish language itself influences and reflects the Latino worldview.
Bordas is president of Mestiza Leadership International. Prior to that she was vice president of the Greenleaf Center for Servant Leadership's board, and trustee of the International Leadership Association.
---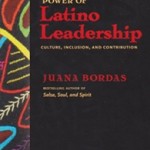 Click to buy The Power of Latino Leadership

---