Posted by Elena del Valle on August 19, 2015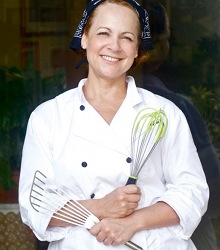 Chef Giovanna Huyke, host, La Cocina Viva
Photo, video: La Cocina Viva
Spanish speaking cooking show fans in central Florida will have a new alternative beginning September 7, 2015. That is when La Cocina Viva will air weekly from 10 a.m. to 10:30 a.m. featuring healthy Latino dishes from Latin America and the Caribbean. The brainchild of Ruben Gonzalez the 30-minute program was produced for under $100,000 by Sima Communications and co-directed by Gonzalez and Giovanna Huyke, a chef.
Huyke will also host the 12 episodes of the program which will be filmed in Tampa, Florida. The target audience for the show is Hispanic Millennials and second generation Hispanics, and eventually "audiences that have an appreciation for Latino food/dishes." The show producers hope to add English content later. Scroll down to watch a two-minute promotional video in Spanish.
"La Cocina Viva is about cooking traditional Latino dishes from the Caribbean and Latin America but in a healthy manner," said Gonzalez by email about the program.
Huyke, chief executive office, Grupo Gio, LLC, a in Washington, DC. Based company, began her career in theater. She worked in Paul Prudehomme's Louisiana Kitchen in New Orleans, and as an assistant to Lee Barnes, before moving to New York City to work with Chef Felipe Rojas Lombardi.
On her return to Puerto Rico she worked at the Caribe Hilton for one year. Later she founded Amadeus in San Juan, where she focused on working with native ingredients and recipes with classic techniques. She was chef at Ali-Oli, founded Don Juan in the El San Juan Hotel and Giovanna's Café. Most recently, Huyke was the executive chef at Mio Restaurant in Washington, DC.