Posted by Elena del Valle on July 24, 2009
Parents who want their children aged two to seven to learn Spanish will have a new teaching tool beginning September 2009, Whistlefritz Spanish for Beginners Inside and Out, a 30-minute high definition animated DVD course for children. The $19.99 recording is available at major online retailers and libraries.
In the DVD, Maria, a teacher, and her friend Fritzi, a mouse, teach children the names of the rooms of a house and its contents and then go outdoors to a playground. It includes a translation guide for parents with the list of words in Spanish.
Heidi Stock first developed the concept in 2006 to teach her own kids how to speak Spanish. She didn't like the existing tools and decided to create her own. The first two titles were Spanish for Beginners Vamos a Jugar (Let's Play) and Spanish for Beginners Los Animales (The Animals). ¡A Bailar!, a music CD, is also available.
Vamos a Jugar received the 2007 iParenting Media Award, Parents Choice Approved Award, National Parents Centers's 2007 Seal of Approval, the National Parenting Publications Awards' 2007 Honors Award and the Creative Child Magazine 2007 Seal of Excellence.
---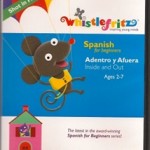 Click here to buy Spanish for Beginners: Adentro y Afuera (Inside and Out)
Click here to buy Spanish for Beginners: Vamos a Jugar (Let's Play)
Click to buy Spanish for Beginners: Los Animales (Animals)

Click here to buy A Bailar! Let's Dance!
---