Posted by Elena del Valle on January 18, 2013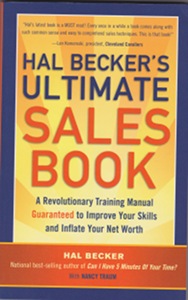 Hal Becker's Ultimate Sales Book
Hal Becker, once the top salesman out of a salesforce of 11,000 at Xerox, and now a consultant, with Nancy Traum, president and chief executive officer, Solon Chamber of Commerce, published Hal Becker's Ultimate Sales Book (CareerPress, $15.99) last year. In the 254-page softcover book written to be a "sales book and a sales training course rolled into one," they outline ideas to assist readers in improving their sales skills.
Chapters address: What Great Salespeople Know; The Importance of Listening; Preparing for the Sales Call; The Importance of Questions; Increasing Your Sales; Cold Calls, Phone Selling and Other Contact Options; Time Management; Handling Objections; Closing the Sale; Customer Care; Role-Playing; and You've Earned a Bonus. The chapters feature lessons and quizzes.
In his opinion, a good sales person prepares to start selling once he or she meets with their customer while a great salesperson prepares for the sale in advance of the meeting. Preparing for a sale or negotiation is important, he stresses in Lesson 10. "The more prepared you are, the better your chance for success," he says. In that lesson he suggests reviewing goals, making sure to have notes ready, paying attention to a prospective client's office, being real and leaving cell phones and electronic devices behind to avoid being distracted during the meeting.
According to promotional materials, Becker conducts seminars or consults for 140 organizations a year, including IBM, Disney, United Airlines, and AT&T. He is the author of Can I have 5 Minutes Of Your Time?, Lip Service, and Get What You Want.