Posted by Elena del Valle on March 12, 2010
Guerrilla Marketing Goes Green
Jay Conrad Levinson, known for his 60 Guerrilla Marketing books, and Shel Horowitz, an environmental activist and marketer for more than 30 years, teamed up to write Guerrilla Marketing Goes Green Winning Strategies to Improve Your Profits and Your Plant ( Wiley, $21.95), a book about effective marketing with an environmental emphasis published this year. The book includes a Foreword by Stephen M.R. Covey, author, The Speed of Trust.
The 236-page softcover book, based heavily on Horowtiz' Principled Profit: Marketing That Puts People First, is divided into three parts: The Way of the Golden Rule, The New Marketing Mindset, and Hands-On with Cooperative People Centered Marketing; discussed in 21 chapters. The authors start from the perspective that being environmentally friendly is what everyone seeks to do.
They promise to explain how readers can increase profits and lower costs by emphasizing ecologically sensitive and ethical policies; convert customers, suppliers and competitors into supporters; make business acquaintances joint-venture partners; and take advantage of social and traditional media to boost revenues and decrease advertising expenses.
Conrad Levinson has taught guerrilla marketing for ten years at the extension division of the University of California in Berkley. Prior to that he was senior vice-president at J. Walter Thompson, and creative director at Leo Burnett Advertising and in Europe.
Horowitz describes himself as an ethical and green marketing expert, book shepherd, writer, international speaker, consultant, community organizer, and frugalist. He is the author of the e-book, Painless Green: 111 Tips to Help the Environment, Lower Your Carbon Footprint, Cut Your Budget, and Improve Your Quality of Life-With No Negative Impact on Your Lifestyle.
---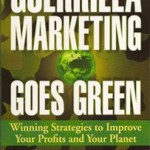 Click here to buy Guerrilla Marketing Goes Green
---