Posted by Elena del Valle on March 18, 2016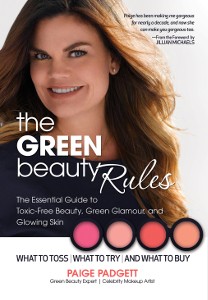 The Green Beauty Rules
Photos: cover by Don Flood and author photo by Michele LoBosco
Do you worry about artificial ingredients in your cosmetics and personal products but are reluctant to stop wearing makeup? After attending a presentation by Ken Cook, founder, Environmental Working Group, Paige Padgett, a makeup artist, had concerns about the ingredients in the products she used so she began to explore toxic-free alternatives.
When asked by email how she defines the term she said, "That is difficult as it's different for everyone. For me it's about being sustainable. Organic and natural are ideal but sustainable takes it a bit further. Ingredients should be sustainable which includes being non-toxic."
From concept to publication she dedicated two years to The Green Beauty Rules: The Essential Guide to Toxic-Free Beauty, Green Glamour and Glowing Skin (HCI Books, $21.95), a 256-page softcover book peppered with full color photos published in 2015. In it, her first book, she promises a step-by-step guide and a sample clean beauty routine of approximately 200 chemically-safe beauty products, ranking 3 or lower on the Environmental Working Group's Skin Deep Cosmetic Database. Green beauty, she explains in her book, doesn't mean organic, all natural or completely chemical free; and minerals, for example, can't be certified organic so mineral-based products aren't organic. The main reason she wrote the book was because there were no books on that subject for women who use makeup and want to use green cosmetics, she explained by email.
Paige Padgett, author, The Green Beauty Rules
"There are a few on the market that are fun but none from a makeup artists perspective that talks about chemicals and give a step by step guide to green your routine and beauty tutorials," she said. When asked how she became an expert she said she never she studied chemistry but, "Rather I am one of the few professional pioneers in the industry. However, I have attended several dozen conferences, seminars, workshops, talks events on the subject over the years as well as chemistry courses interviewing prominent people in the industry and writing for magazines on the subject."
According to her bio, Padgett, the founder of PaigePadgett.com, was one of the first makeup artists to create a completely green makeup line. The biggest challenge she encountered in the book project was the time and cost of photography. The biggest surprise? "That when you write a book you are not finished. You have to market the book forever," she said.
She believes in green beauty that is chemically safe, cruelty free and eco-friendly. That means avoiding petrochemicals and nanoparticles, she says. In the book she explains that they have been linked to allergies, skin irritation, cancer, serious health issues, neuro and respiratory damage, birth defect, and disruption of the endocrine system. In a chapter titled The Nasties she lists examples of those products and why readers should not use them. The chapter includes a list of 20 of the most common harmful chemicals often present in beauty products. For example, she says parabens are hormone disruptors found in 99 percent of cosmetics.
In the book, she provides suggestions for shopping venues, vegan and gluten-free brands, and products under $15. She also shares information on nail care, hair care, bath and body products, sun care and hair removal products, as well as products for travel, and organic fragrances.
---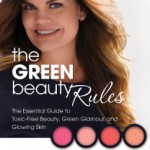 Click to buy The Green Beauty Rules
---