Posted by Elena del Valle on June 26, 2015
The Cayman Edge
Photos: cover Alex Nereuta, author Hans van der Post
Investors looking for opportunities that don't follow the mainstream market trends sometimes choose independently managed private funds. That is one reason to buy into an offshore fund. Diversity is another, according to Gordon Casey, managing director of hedge fund consultancy Front Shore.
"While everybody is hoping for returns that are higher than the market, the truth is that there is great value in having an investment that is completely independent from the regular investment options," Casey said by email when asked about the advantages of Cayman Islands investments.
"Diversity is a goal in and of itself and that's the main reason. Having said that, fund structures in the Cayman Islands are used for many other purposes – including the structuring of private funds only intended for a very small group of people who want to invest together, family funds where all of the assets owned by a family are put into the fund structure and the family heirs, as such, are given shares in the fund. And lastly, for people who live in geographic areas with strict exchange controls but have made substantial gains internationally and do not want to repatriate their funds yet, a fund offers an efficient way to invest those gains outside of their core business – whether for private, corporate or family planning purposes."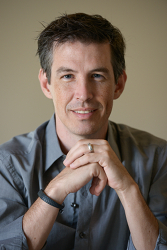 Gordon Casey, author, The Cayman Edge
In The Cayman Edge How to Set Up a Cayman Edge Fund (OneWord Publishing, $19.99), a 169-page softcover book published in 2014 he discusses the subject in detail. He wrote the book for fund managers wishing to setup a fund in the Cayman Islands, although he also hopes it serves as a useful tool for students of finance seeking information about the hedge fund industry in general, and new entrants to the industry who want to get a head start. The book is illustrated in color and divided into 18 chapters, two introductions and eight appendices.
"When I entered the industry in 2001 there was very little in the way of guides or literature on funds, and these days you can find everything online but it's scattered across the websites of industry organisations, law firms, administrators and general interest articles," Casey said. "The book is an attempt to consolidate all of the information (with pictures!) into one place – the book that I wish I had been given when I first started and a book that I can continue to use as a reference tool myself."
While many of the more successful funds require a minimum of one million dollars to start, the most common funds require a minimum investment of $100,000, he explained by email. In the book, he describes six types of funds and seven service providers. Casey has been running Front Shore since 2004.
---
Click to buy The Cayman Edge
---