Posted by Elena del Valle on July 31, 2015
GALA Advertising Law Book
Photo: Global Advertising Lawyers Alliance (GALA)
For marketers planning a multi-country ad campaign it may be useful to become familiar with the laws in the countries of their launch. For example, in the United States while there are no advertising practices prohibited outright there are restrictions, limitations, disclosure requirements and "medium- and industry-specific laws and regulations" on various advertising practices, according to the Global Advertising Lawyers Alliance (GALA).
This year, the Global Advertising Lawyers Alliance (GALA) published the first edition of the GALA Advertising Law: A Global Perspective, an 845-page book about international advertising, marketing and promotion laws in 56 countries from Argentina to Zimbabwe. The book is available via Amazon.com as a two volume publication (the review copy was one comprehensive digital document). Advertising Law I features information in alphabetical order by country from Argentina to Japan. Advertising Law II features the remaining countries from Kenya to Zimbabwe.
Organization lawyers wrote the book to educate in-house counsel, marketing professionals, agency executives, and firm lawyers about advertising law around the world. A list of the contributors and their firms appears in the back of the book.
Each entry outlines issues such as Advertising Framework, Self-Regulatory Framework, Advertising Law Basics, Price Advertising, Prohibited Practices, Sponsor/Advertiser Identification, Branded Content, Social Media, Rights of Privacy/Publicity, Special Clearance, Cultural Concerns, and Miscellaneous.
The United States section was co-written by attorneys from three New York law firms, Ronald R. Urbach, Joseph J. Lewczak and Allison Fitzpatrick from Davis & Gilbert, Rick Kurnit and Jeffrey A. Greenbaum from Frankfurt Kurnit Klein & Selz, and Douglas J. Wood, Joe Rosenbaum, John Feldman & Stacy Marcus from Reed Smith.
---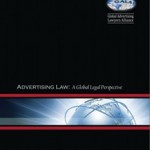 Click to buy Advertising Law I: A Global Legal Perspective: Volume I: Argentina – Japan (Advertising Law: A Global Legal Perspective) (Volume 1)
and
Advertising Law II: A Global Legal Perspective: Volume II: Kenya – Zimbabwe (Advertising Law: A Global Legal Perspective ) (Volume 2)
---