Posted by Elena del Valle on May 21, 2010
The Prince of Persia poster
Photos, video: ThinkLatino, Andrew Cooper SMPSP, Disney Enterprises, Inc. Jerry Bruckheimer Inc.

Current thorny political issues with Iran notwithstanding mega successful Hollywood producer Jerry Bruckheimer and Disney Enterprises teamed up to make the Prince of Persia: the Sands of Time, a Middle Eastern themed adventure movie based on a video game and due to be released in theaters nationwide May 28, 2010. Scroll down to watch a trailer of the movie.
Like its namesake video game the movie follows an adventure seeking prince and a princess working together to prevent an angry despot from possibly destroying the world. The movie stars Jake Gyllenhaal as Dastan, the young prince, and Gemma Arterton, as the mysterious princess Tamina. They join forces to protect a powerful and ancient dagger capable of reversing time and allowing its possessor to rule the world.
Also in the film, directed by Mike Newell (Harry Potter and the Goblet of Fire), are Sir Ben Kingsley and Alfred Molina. The screenplay was by Boaz Yakin and Doug Miro and Carlo Bernard from a screen story by Jordan Mechner. The executive producers are Mike Stenson, Chad Oman, John August, Jordan Mechner, Patrick McCormick and Eric McLeod.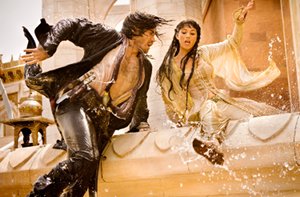 Gyllenhaal and Arterton in Prince of Persia
Academy Award-nominated Gyllenhaal is winner of the 2006 Best Supporting Actor award from the British Academy of Film and Television Arts (BAFTA) and the National Board of Review. He also earned Oscar and Screen Actors Guild SAG Award nominations for his performance as Jack Twist in Ang Lee's Brokeback Mountain. Gyllenhaal recently completed production on Duncan Jones' Source Code opposite Michelle Monaghan, and Ed Zwick's Love and Other Drugs opposite Anne Hathaway due to be released by Twentieth Century Fox November 24, 2010.
Arterton made her feature-film debut in the role of Kelly, the head girl in St. Trinian's, directed by Oliver Parker and Barnaby Thompson. In 2008, she played Agent Fields in Quantum of Solace, starring Daniel Craig in his second outing as Agent 007, as well as in the title role in BBC's adaptation of Thomas Hardy's Tess of the D'Urbervilles. Arterton had a supporting role in Guy Ritchie's RocknRolla, and appeared in Pirate Radio.