Posted by Elena del Valle on August 27, 2012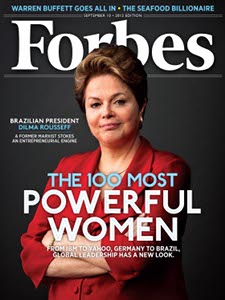 Forbes 100 Most Powerful Women cover
Photo: Forbes
For nine years Forbes has compiled a list of 100 Most Powerful Women around the world. German Angela Merkel was at the top followed by Hillary Clinton in this year's recently released list. The cover is occupied by Dilma Rousseff, president, Brazil and number three on the list. The magazine dedicated pages 64 to 69 to her. Of the top ten women on the list six are from the United States and there is at least one Latina, Jennifer Lopez in the Celebrity category, among the 100 influential women from around the globe. She appears in the thirty eighth spot.
Some Latinas like Shakira and Sofia Vergara among the celebrities and several in other categories who United States audiences may recognize appear on the list but they are listed in the country where they reside. In the case of Shakira and Sofia Vergara that is Colombia. While 28 countries are represented 61 of the women reside in the United States.
Although there is no list of most powerful men there is a list of Most Powerful People due to be released later this year. A spokesperson declined to identify "how much time it takes to report for our lists."
For this year's list the publication selected the 100 most influential women from seven categories or power bases: billionaires, business, lifestyle (including entertainment and fashion), media, nonprofits/NGOs, politics and technology. Staff assigned the rank within each category, as well as overall rank on the list of 100, by applying three metrics: money, media presence and impact.
For the money metric, the staff took into account 2011 company revenue and market value if it was available for business, media and tech; for lifestyle salary, they relied on the Forbes 2012 Celebrity 100; for GDP, politics and net worth they looked at the Forbes 2012 World's Billionaires list for those with 10-figure bank accounts; and women from nonprofits/NGOs were rated on dollars spent fulfilling the organization's mission.
They took into consideration media component accounts for news hits (Factiva) and TV and radio appearances (Nexis) from the past 12 months, as well as number of followers on social media channels Facebook, Twitter and YouTube as of July 2012. They scored candidates on their impact including "the extent of their reach across industries, cultures and countries, the number of spheres of influence and people they affect and how actively they wield their power."
The top names from the United States were: Hillary Clinton, Secretary of State, United States; Melinda Gates, co-chair, Bill & Melinda Gates Foundation; Jill Abramson, executive editor, New York Times Co.; Michelle Obama, first lady, United States; Janet Napolitano, secretary, Department of Homeland Security, United States; Sheryl Sandberg, COO, Facebook; Oprah Winfrey, entrepreneur; Indra Nooyi, chairman and CEO, PepsiCo; and Irene Rosenfeld, chairman and CEO, Kraft.