Posted by Elena del Valle on January 25, 2013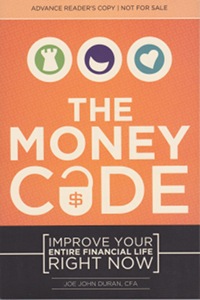 The Money Code
After finding what he thought was "the pinnacle of the American dream" Joe John Duran, a financial planner originally from Rhodesia (now Zimbabwe), realized that instead of finding freedom from money he was becoming enslaved by it. This caused him to seek change and evolved thinking. He believes decisions about money are usually emotional and affected by people's personal histories and way of looking at things which in turn affect how they make decisions and the quality of those decisions. To obtain financial success it is necessary, according to him, to separate emotional and logical motivation.
In The Money Code: Improve Your Entire Financial Life Right Now (Greenleaf Book Group Press, $14.95) he outlines the path, he believes, leads to lasting financial solutions; a way to pass from what people say they want to what they are doing to get there. He sets out to help readers discover their attitudes toward money and identify a "road map for making sound financial decisions." He proposes that money serves three main purposes: avoidance of pain by protecting what a person values in the future, feeling good by facilitating access to things that make a person happy, and providing the means to help others.
In the 155-page softcover book, he presents his five Money Secrets: tough choices are part of life, how someone makes decisions determines his entire life, a person's biases affect every decision he or she makes, inconsequential distractions come along, and a good process is required to make good decisions. He relies on hypothetical situations, a fictional character and check-lists to illustrate his points in eleven chapters.
Duran, founding partner of United Capital, a wealth counseling firm, previously served as president of GE Private Asset Management. He holds the Chartered Financial Analyst (CFA) designation and earned MBA degrees from Columbia University and UC Berkeley. The the author of two other books, he lives in Laguna Beach, California, with his wife and daughters.