Posted by Elena del Valle on December 7, 2016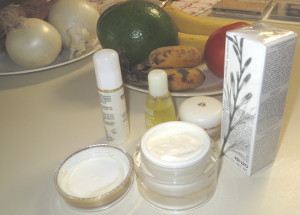 According to Mintel, consumers are most likely to be interested in products with vitamin C, fruit based ingredients, oatmeal, and honey.
Photo: HispanicMPR.com
Last year, facial skin care and anti-aging cream sales declined after experiencing steady growth for years in the past, according to research company Mintel. Although anti-aging products remains the largest segment in the category, it suffered a sales decrease of 6.3 percent from 2014 to 2015. Also, 21 percent of consumers who responded to a Mintel survey said they do not use and are not interested in using anti-aging products compared to 18 percent of consumers who use them.
The overall facial skincare and anti-aging market experienced a 1.4 percent decrease in sales in 2015, falling to $6.6 billion, according to Mintel. Baby Boomers, consumers 55 and older, who took the research company's survey were the least likely to report usage of nearly every facial skincare product they surveyed, with one third (32 percent) not using any of the surveyed products compared to 19 percent overall.
"While the facial skincare category has experienced tepid sales over the years, in 2015 we saw declines for the first time in five years," said Shannon Romanowski, category manager, Health, Household, Beauty and Personal Care at Mintel, in a press release. "Moving forward, the category's success will rely on younger consumers and the growing facial cleanser segment, with an emphasis on natural, recognizable ingredients and innovation like 'waterless cleansing.' To broaden the appeal of these products, brands should be proactive in addressing concerns surrounding cost and usage instructions."
According to Gastronomia Global Beauty and Personal Care Trend, a Mintel survey of 1,613 adults who said they use skincare products, consumers are interested in milder, natural formulations that shield against pollution. One in seven (14 percent) of the respondents believe pollution impacts the appearance of their skin.
Survey takers also said they view lifestyle as an important factor in their skin's appearance. Many said they are convinced hydration (44 percent) and diet (36 percent) impact skin's appearance more than using skincare products (26 percent). Another 38 percent said they believe stress impacts the appearance of their skin. Among the  survey takers 30 percent said they seek anti-aging products making anti-stress claims.
"Consumers are embracing healthy, holistic living, and our research shows that these lifestyle changes are driving the facial skincare and anti-aging market. In such a saturated marketplace, products featuring natural formulations are standing out to consumers who trust identifiable and natural ingredients," said Romanowski. "The link between diet and skin is evident, and as consumers increasingly associate their lifestyle with their skin's appearance, product formulations with added food-based ingredients and vitamins stand out among the competition."
According to the Mintel report, consumers are most likely to be interested in products with vitamin C (85 percent), fruit based ingredients (78 percent), oatmeal (78 percent) and honey (76 percent); and 72 percent of consumers are interested in products featuring probiotics.