Posted by Elena del Valle on August 6, 2010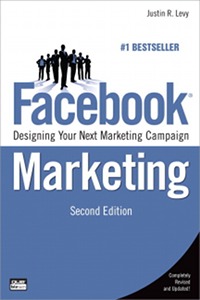 Facebook Marketing: Designing Your Next Marketing Campaign
Photos: Que Publishing
In July 2010 Facebook announced it has 500 million users (although on another page of the Facebook website the company's own description listed the day of this writing 400 million users who have returned to the site in the last 30 days). Founded in February 2004, Facebook is described in the About Facebook heading of the Press section of the company website as "a social utility that helps people communicate more efficiently with their friends, family and coworkers. The company develops technologies that facilitate the sharing of information through the social graph, the digital mapping of people's real-world social connections. Anyone can sign up for Facebook and interact with the people they know in a trusted environment."
The Statistics page of the Press section of the Palo Alto, California based company indicates 70 percent of its users are outside the United States. At the same time it seems to be popular with big companies: Two-thirds of comScore's Top 100 websites in the United States and half of comScore's Global Top 100 websites have integrated with Facebook, according to the data on that same page.
Perhaps as a result it seems everybody is thinking about, wants to, or has a business page on Facebook although curiously in the company's own description the utility is for "friends, family and coworkers." At the same time whether for personal, business or combination profiles there have been a number of concerns over the life of the website and especially recently about privacy and the company's efforts to bank on member data to make a profit.
Author Justin Levy
Earlier this year Facebook changed its default privacy settings to allow third-party partner websites described as partners to access information from user profiles whenever they wanted to unless users went back to their profiles after the new policy was announced to block that use. Millions of users were said to have complained and as many as 25 million were thought to have closed their accounts in protest before the company responded.
As director of Business Development, Marketing and Client Relations at New Marketing Labs Justin Levy makes his living with Facebook, in part. The company he works for offers consulting services to middle and large sized companies that want to leverage their social media presence. According to his bio, his clients include Sony, Microsoft, Citrix Online, SAS, and Molson Coors. Earlier this year, he published the second edition of Facebook Marketing: Designing Your Next Marketing Campaign (Pearson Education, Inc., $24.99).
In the 195-page softcover book he discusses his thoughts on Facebook as a social media business tool. He addresses establishing a presence, creating ads on Facebook, privacy, using Facebook Connect and Live Stream Box to reach potential customers outside Facebook, reputation monitoring, widgets and apps, and sweepstakes to build traffic.
The book is divided into 11 chapters: From Dorm room to Boardroom: The Growth of Social Networks, Getting Around Facebook: The Basics, Establishing a Corporate Presence, Extending Facebook into the Interwebs: The Power and Reach of Facebook Connect, Facebook Advertising: How and Why You Should Be Using It, Extending the Experience with Facebook Apps, Addressing Privacy Concerns, Developing a Facebook Marketing Strategy, Using Facebook to Develop Communities, Best in Class, Shaking the Crystal Ball: What's Next for Facebook.
---
Click here to buy Facebook Marketing
---