Posted by Elena del Valle on October 31, 2012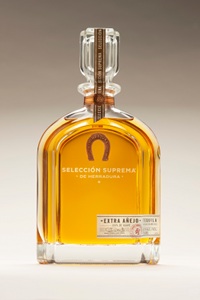 Seleccion Tequila
Photos: Casa Herradura
Tough economic times are not dampening the spirit of fine tequila drinkers. Just in time for the holiday season tequila maker Casa Herradura recently announced new refined primary and secondary packaging for its high-end, extra añejo Selección Suprema tequila, first produced in 1995, designed to appeal to tequila connoisseurs and aficionados among men thirty years of age and older.
A brand spokesperson described the target customers as "sophisticated males who appreciate Herradura and the desire to share the best life has to offer with closest friends." The 750 milliliter bottle sells for $350. The new packaging was expected to arrive at stores by the end of October.
Seleccion Tequila – click to enlarge
"The refinements are meant to better reflect the quality and sophistication of the tequila within and align the packaging with the rest of the Herradura brand family," said Valdemar Cantu, brand manager Herradura.
Seleccion Tequila bottle and box
The new package features an earth-tone box with a bi-fold opening with the brand's horseshoe on the bottom right panel. The center interior of the box props and cradles the bottle on a fitted pedestal. The new packaging was designed by Johnny Cardenas, design director for Brown-Forman. Once opened, the bi-fold panels display the story of the tequila handcrafted in Amatitán, Jalisco Mexico following "traditional production methods" and aged for 49 months in American white oak barrels. Although the glass container remains unchanged, a copper finish metal die cast horseshoe, a copper neck band, and a brand mark update were added as well as an authenticating strip label signed by Master Distiller Maria Teresa Lara.
Casa Herradura has been hand harvesting, handcrafting and estate bottling tequilas in Jalisco, Mexico since 1870. In 2007, Casa Herradura was acquired by Brown-Forman Corporation of Louisville, Kentucky. Brown-Forman is a producer and marketer of beverages and alcohol brands.