Posted by Elena del Valle on January 11, 2013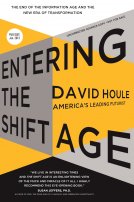 Entering the Shift Age
Photo: Sourcebooks
In his most recent book David Houle, a self described futurist, examines the historic transformation of humans. He explains that our society has been transformed by a series of eras each with its own characteristics. First, the Agricultural Age brought about organized cultivation and permanent settlements in lieu of the nomadic lifestyle humans had had for thousands of years. He discusses how the Industrial Revolution led to yet other dramatic changes in the world; and most recently the Information Age transformed work and personal environments in the United States and later internationally with record speed. He is convinced that now we are in a new era which is having a dramatic impact on society.
Houle, author, Entering the Shift Age The End of the Information Age and the New Era of Transformation (Sourcebooks, $8.69), a soon to be published e-book of 3,431 tablet length pages, believes we left the Information Age behind in 2006 following the Threshold Decades and transitioned quietly to what he calls the Shift Age which is still being created and defined by three dominant forces: the Flow to Global, the Flow to Individual and Accelerating Electronic Connectedness.
People will arrive at a point where they will consider that they are part of a global community, rather than an international one, he points out in Chapter Three. This is due in part because the speed of communications has shrunk the world, opened borders driving world politics inward and increasing multicultural integration, he explains in the book.
Houle is convinced that during the Shift Age a greater number of people will migrate than during previous ages in part because there are more people and in part because a higher percent of the population will migrate. At the same time, due to the global economy, he says in Chapter Twenty-Seven, "increasingly we will look globally for employment or contract work." In the future, people will work together in project and then separate.
Millenials he has met have a strong desire to experience the world, planning to spend up to ten years working at various places around the globe. Digital Natives are ever more interconnected into the global community, he says. They are the group with least place-base identity. Africa is poised to enter a golden age in 2020 and such a boom will impact mass migration, he says toward the end of the book.
While the book was legible in a tablet the formatting was riddled with odd line breaks, some words with a random mix of lowercase and uppercase letters that did not follow a standard publishing style, and hard to read figures due to the odd formatting display on the tablet screen.
Houle, a strategist and keynote speaker, won a Speaker of the Year award from Vistage International. According to his biography, he has spoken to or advised more than two thousand chief executive officers and business owners in the past four years.