Posted by Elena del Valle on June 10, 2016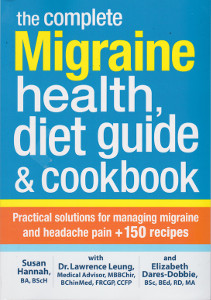 The Complete Migraine Health, Diet Guide and Cookbook
Photos: Robert Rose


When it comes to migraines science is still in the dark in many respects. Elizabeth Dares-Dobbie BSc, Lawrence Leung, MBBChir, and Susan Hannah believe migraine headaches are caused by histamines. They are convinced that lifestyle and understanding the triggers that cause migraines can lead to managing the chronic condition in order to prevent them, reduce their frequency or deal with them after they occur.
In The Complete Migraine Health, Diet Guide and Cookbook (Robert Rose, $24.95), the three share their ideas on the topic along with 150 recipes designed to minimize foods likely to trigger migraines. The 336-page book, published in 2013, was the first book for all three and required 15 months from idea to publication. It is divided into three main parts: Understanding Migraine, Cluster and Tension Headaches; Managing Primary Headaches; and Low-Histamine Diet Program.
Elizabeth Dares-Dobbie
When asked by email via their publisher how their book stands out among the many titles on the subject Dares-Dobbie and Hannah replied: "Our Migraine book offers a complete package for the reader. Starting with a description of the symptoms and physiology of the 3 different headache types: migraine, tension, and cluster, moving on to the current guidelines health professionals follow when providing care for headaches. Next, we provide an in-depth description of the various drugs given for each scenario, the options for therapies provided both by traditional Western medicine or alternative medicine and end that section with lifestyle tips to reduce the impact of headaches. We describe the theory of how high histamines may cause headaches for some people, explaining exactly what happens in our bodies, and go on to provide a low histamine diet meal plan, followed by 150 recipes that work with the meal plan. Through the recipe section, we give tips on how to reduce histamines in family favourite recipes, such as serving hot sauces at the table rather than including them in a dish (for people whose histamine levels rise to cause a headache from hot sauce). Our book is easy to read and well organized."
They set out to share with readers ways to identify the signs and symptoms for migraines, cluster, and tension headaches; learn about headache triggers; understand diagnosing tests; learn about treatments traditionally used by physicians and other healthcare providers, including the use of prescription medications, physiotherapy, and surgery; consider the benefits and risks of alternative treatments, such as acupuncture, body-mind medicine, and medicinal herbs; understand the role of nutrition and diet in the management of headaches; and adopt a healthy meal plan that focuses on enjoying antihistamine headache foods and eliminating foods that increase the risk of headache.
Susan Hannah
When asked why they believe there is a link between histamines and migraines, Dores-Dobbie and Hannah replied, "Long-standing research has shown a link between histamines and migraines. For decades, people with migraines have been warned away from foods high in histamines, such as red wine, old cheese, chocolate, and more. We relied on recent research to identify foods with different levels of histamine, including foods that have no histamine, and foods that help to reduce histamine, such as fresh and dried herbs added to recipes."
Dares-Dobbie is a registered dietitian and nutrition consultant with expertise in diabetes, hypertension, cholesterol management, geriatric nutrition, gastroenterology, and food allergies. She runs a nutrition consulting business and practices in long term care in Kingston, Ontario.
Lawrence Leung
Hannah is a freelance writer, book designer, photographer and former research associate at the Department of Family Medicine at Queen's University in Kingston, Ontario. She is keenly interested in lifestyle choices and diet as possible therapeutic strategies for improving health conditions and quality of life. Leung, associate professor in the Department of Family Medicine at Queen's University, is a published medical research scientist and practicing physician of Western and traditional Chinese medicine.
---
Click to buy The Complete Migraine Health, Diet Guide and Cookbook
---