Posted by Elena del Valle on November 18, 2013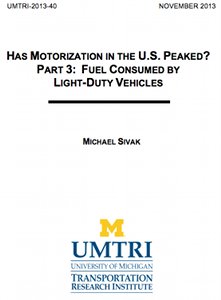 U.S motorization study by Michael Sivak
In 2011, based on the most recent data available, the average driver in the United States consumed 585 gallons of fuel or 1,033 gallons per household. Recent studies indicate that Americans, in general, own fewer light-duty vehicles, drive each of them less, and consume less fuel than in past years.
According to the results of a study (one of three on the subject conducted) released this month, researchers believe fuel consumption rates per person, per licensed driver, per household, and per registered vehicle and distance-driven rates peaked in 2003 or 2004, before the ongoing economic downturn.
By 2011, they had decreased by 13 percent to 17 percent. The researchers believe the long term peak was reached around 2003 or 2004.
They concluded Americans drive fewer light-duty vehicles, defined as cars, pickup trucks, SUVs, and vans; they drive each of them less, and consume less fuel. They also estimate that current fuel consumption rates are lower than they were in 1984 when they began to track the information.
The 17-page report, titled Has Motorization in the U.S. Peaked? Part 3: Fuel consumed by light-duty vehicles was authored by Michael Sivak, director, Sustainable Worldwide Transportation, University of Michigan Transportation Research Institute. Earlier this year, he published two reports in which he looked at recent trends in the numbers of registered light-duty vehicles in the United States and the corresponding distances driven.