Posted by Elena del Valle on March 15, 2010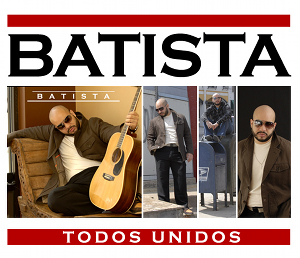 Batista debut album cover
Brooklyn born singer song writer Batista must be feeling pretty good. Batista, his bilingual debut album, is due for national release by Wu Latino very soon. The New York artist of Dominican background described the album as having "scores fused with elements of tropical rhythms favoring bachata, as well as elements of pop/rock and U.S. urban tendencies." The new recording has 12 tracks in Spanish and English. Scroll down to listen to Todos Unidos, a single from Batista's album.
The music ranges from bachata, experimental, tropical, bolero and reggaetón. The first single released is the track Dame Tu Amor, a Spanish language variation of the classic Bee Gees hit How Deep is Your Love, rewritten and arranged to a bachata rhythm by Batista. Batista relies on traditional bachata instrumentation, electric guitar and bass, bongó and güira as well as technology via sequences and samples to modernize the bachata sounds, according to promotional materials. The single Todos Unidos was designed to be a tribute to Coldplay's Viva La Vida.
Batista
"I follow the music, what's in my heart; I write what I hear internally. One day my inspirations may direct me to write a romantic love song or a bachata and another time an R&B score or a more upbeat composition. It's all about how I feel at the time and not about using a particular formula to create a song or bind myself to a specific style or form of music," said Batista. "In this recording, most of the selections that I included are geared towards the tropical market and to the Latin world's music audiences. In reality, this production is a tribute to my Dominican culture and the music of my parents, which is also a big part of me. As I continue to grow as a songwriter/singer, my other musical colors and flavors will surface, taking me to other stages in other markets."
As a young man Batista built his own recording studio and learned about the business of music before becoming a producer for local artists. He was influenced he says, by rock, pop, urban and Latin genres and artists such as BonJovi, Inxs, Leo Dan, Camilo Sesto, Social Club and Juan Luis Guerra.
Although the album is not for sale yet,
Dame Tu Amor
, a previously released single, which was in the top position on the pool charts for two weeks is available for purchase on iTunes.
Click on the play button
to listen to
Todos Unidos
from the
Batista
album.
---