Posted by Elena del Valle on January 8, 2010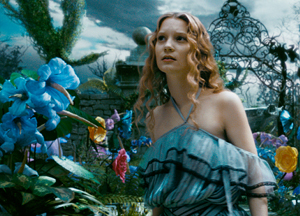 Alice in Alice in Wonderland

The Red Queen
Photos, video: Disney Enterprises, Inc.
With the exception of Edward Scissorhands and Bettle Juice, I'm not much of a Tim Burton (film director) fan. His dark quirky style makes me want to run away from the theater. And Alice in Wonderland is a bit of an acquired taste. Having said that, Disney's soon to be released Alice in Wonderland in 3D looks colorful and intriguing in the trailers (no screener was available). It makes me think of Cirque du Soleil. Scroll down to watch a trailer.
A scene from Alice in Wonderland
The cast includes familiar faces like Johnny Depp as the Mad Hatter, Anne Hathaway, Helena Bonham Carter as The Red Queen, Crispin Glover, Matt Lucas, Marton Csokas, Tim Pigott-Smith, Lindsay Duncan, Geraldine James, Leo Bill, Jemma Powell, Mairi Ella Challen and Mia Wasikowska as Alice.
Linda Woolverton based her screenplay on the Lewis Carroll classics Alice's Adventures in Wonderland and Through the Looking-Glass. In the modern day tale, a 19-year-old Alice returns to the fantasy world she first encountered as a young girl to find her childhood friends, the White Rabbit, Tweedledee and Tweedledum, the Dormouse, the Caterpillar, the Cheshire Cat and Johnny Depp's Mad Hatter.