Posted by Elena del Valle on December 16, 2016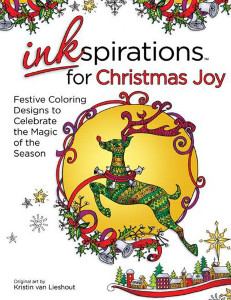 Inkspirations for Christmas Joy
Photos: Health Communications, Inc.
Coloring for adults seem to be sweeping the nation and beyond. If the coloring bug bit you and your are looking for new themes the new additions from Health Communications, Inc. in Deerfield, Florida, all 72 pages, 8.5 inches by 11 inches in size, may interest you. Like Christmas? Inkspirations for Christmas Joy Festive Coloring Designs with DIY Gift Tags, Postcards, Wine Tags and More with original art by Kristin van Lieshout, an artist from Lynchburg, Virginia could be worth a look.

Kristin van Lieshout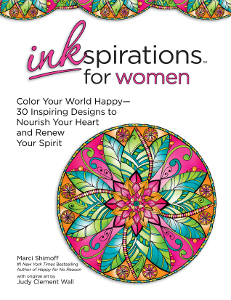 Inkspirations for women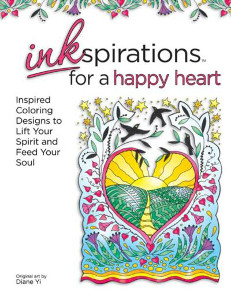 Inkspirations for a happy heart
Inkspirations for Women Color Your World Happy 30 Inspiring Designs to Nourish Your Heart and Renew Your Spirit by author Marci Shimoff with original art by Judy Clement Wall (see Author, artist team up on coloring book for women) might be just what you seek for an inspirational and affordable holiday gift. Want to cheer yourself up?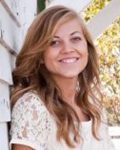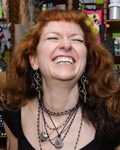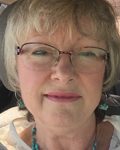 Anna Carey, Beth Logan, and Diane Yi
Inkspirations for a Happy Heart Inspiring Coloring Designs to Lift Your Spirit and Feed Your Soul features original art by Diane Yi, who draws her inspiration from nature, beauty, and the sacredness of the human spirit. According to her biography, her work is in private collections worldwide. She lives near Kansas City with her husband and two dogs.
Inkspirations animal kingdom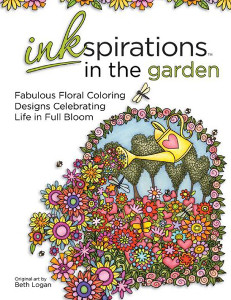 Inkspirations in the garden
Inkspirations Animal Kingdom Captivating Coloring Designs Celebrating the Majesty of Animals with original art by Anna N. Carey features 32 original designs. Carey has combined her love of animals and her talent as an artist with her passion as an educator. An elementary art specialist she founded Paisley & Hazel Designs, named in honor of her two canine companions.
Like plants? Inkspirations in the Garden Fabulous Floral Coloring Designs Celebrating Life in Full Bloom with original art by Beth Logan may be for you. It includes wildflowers, rose bushes, cottages and gazebos, and a mix of easy designs along with elaborate pages. According to a company representative, the top selling titles from the series are: Fruit of the Spirit, for Women, Recovery, and Animal Kingdom.
---
Click to buy 
---