Posted by Elena del Valle on February 17, 2012

Who We Are: Hispanics book cover
Marketers and planners across the nation continue to examine the findings of the 2010 United States Census. One of the notable findings, from a big picture ethnicity and race perspective, is that there were three million more people of minority background and one percentage point higher than the experts anticipated.
The Second Edition of Who We Are: Hispanics (New Strategist, $89.95), published last year, outlines the main findings of the 2010 Census about the Hispanic population of the United States, including counts by state and major urban areas.
The book, provides black and white tables and illustrations and data on spending, household wealth, impact of the Great Recession, time use and attitudes about some issues. Who We Are: Hispanics is part of the Who We Are Series of three books sold together and individually. The other two titles are Who We Are: Asians and Who We Are: Blacks.
The 312-page book is divided into an Introduction, an Executive Summary and 11 chapters titled: Attitudes, Education, Health, Housing, Income, Labor Force, Living Arrangements, Population, Spending, Time Use and Wealth.
For the Who We Are Series the publisher's staff dedicated, according to promotional materials, hundreds of hours reviewing, compiling and analyzing information and data from the federal government about the size and characteristics of the Asian, black, and Hispanic populations, described as "the most rapidly growing segments of the consumer marketplace."
New to the second edition of the Who We Are Series is a chapter on the attitudes of Asians, blacks, and Hispanics on issues such as political identification, happiness and trust in others, religious beliefs, and support for gay marriage.
---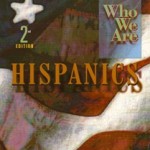 Click to buy Who We Are: Hispanics
---