Posted by Elena del Valle on June 14, 2013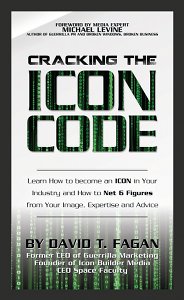 Cracking The Icon Code
Photo: David Fagan
Influence, credibility and exposure combined can act as catalysts to success for business leaders who know how to leverage them, according to David T. Fagan, author, Cracking The Icon Code Learn How to Earn an Icon Status and How to Net 6 Figures from Your Image, Expertise and Advice (On the Inside Press, $14.95). He believes it's good to establish complimentary relationships but that at the end of the day it's a free capitalist market and competition is necessary.
In the book, he goes on to say that people who sell a product or service for a living need to establish good contacts and show their clients what makes them worth buying from compared to doing nothing or buying from a competitor. Being bold, causing a little controversy and speaking out about a topic can be beneficial, the author points out.
The more someone can do for others the more influential he or she is, he says in Chapter 4 where he provides a test for readers to determine their Icon Influence Factor. To lead, he points out, it's necessary to have a high score. In the same chapter he has Credibility Competency Score and Exposure Energy Score tests. He dedicated two chapters to websites as marketing tools and discusses the value of media, writing a book and other ways a reader may spread his reputation as an icon.
The 157-page softcover book published this year is divided into 40 short easy-to-read chapters. Fagan is former chief executive officer of Guerrila Marketing. Books he authored or co-authored include: Guerrilla Rainmakers, The Inside Drive, How to Raise an Entrepreneur, Secrets of Peak Performers, Mad Ads: Madison Avenue Advertising on a Main Street Budget, and Zero to Hero in 90 Days or Less.