Posted by Elena del Valle on February 9, 2011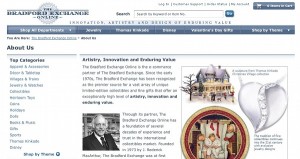 BradfordExchange.com, the most visited jewelry website
Americans hit the web with gusto this past holiday season. December 2010 saw an increase of 80 percent in retails site visits compared to the same time of year in 2009, according to comScore, Inc., a digital metrics company. According to a company spokesperson 85 percent of Americans visited an online retail site this past holiday season. Selling flowers or cards online? You probably did well in December.
The second retail category in online growth was digital seasons greetings with a 32 percent growth and 27.4 million visitors. Buyers of flowers, gifts and greetings were active during the last month of the year; 36.5 million visitors browsed and bought gifts online. Some items required shipping causing a spike in shipping site visits; 33.6 million Americans visited a shipping site in December, up 29 percent from the prior month.
AmericanGreetings Property was the category leader with 10.6 million unique visitors in December (up 28 percent) followed by Gifts.com with 7.7 million visitors, (up 36 percent), Hallmark with 3.8 million (up 10 percent) and 1-800Flowers.com, Inc. with 2.4 million (up 40 percent). ProFlowers.com more than doubled its audience in December, attracting 2.1 million visitors.
MyFunCards.com was the top e-card site with 7.1 million unique visitors (up 77 percent). Next was AG Interactive with 5.9 million visitors, a 47-percent increase. Evite.com came in third with 5.4 million, and 123Greetings.com with 3.3 million visitors (up 35 percent) was next.
Did you dream or splurge? Browse or buy yourself or a loved one jewelry? You were in good company. After watching their pennies during the recession many shoppers bought luxury goods this holiday season, resulting in an all-time high of 26.2 million unique visitors to Jewelry/Luxury Goods/Accessories sites that month.
BradfordExchange.com took the top spot in the category with 2.8 million unique visitors in December (up 15 percent), followed by Zale Corporation with 2.3 million visitors (up 26 percent), Coach.com with 2.1 million (up 14 percent) and Swarovski.com with 2.0 million (up 13 percent), according to comScore.