Posted by Elena del Valle on September 7, 2012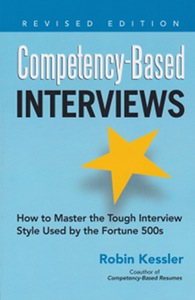 Competency-Based Interviews, Revised Edition book cover
Many times in academic and business situations success hinges on test taking, interview taking and other skills that have little to do with the eventual employment, appointment or other opportunity a candidate applies for in a given situation. Why are some people selected and others with similar credentials rejected? Robin Kessler, a human resources consultant, believes that recognizing change and being able to adapt to it before others do increases the probability of succeeding.
In Competency-Based Interviews, Revised Edition: How to Master the Tough Interview Style Used by the Fortune 500s (Career Press, $14.99), a 223-page softcover book published this year, she discusses her ideas about behavioral interviews targeting relevant competencies.
The author strives to provide prospective interviewees an edge in an interview by helping them understand how human resources professionals approach interviewing and hiring, and anticipating what an interviewer may seek; recognizing the changes in interviewing that are being implemented at sophisticated organizations; pointing out to the decision makers how the interviewees competencies match their needs; and developing a plan to drive top performance during interviews.
In the 16-chapter book, she stresses the importance of thinking strategically. Three first steps she points out are to discover what it takes to win, doing the things required to win and being aware that what it takes to win may change. At the end of each chapter she summarizes the essence of the chapter in a question and answer format.
Kessler, president, The Interview Coach, a Texas based career consulting and human resources company, has 20 years of experience. She is author of Competency-Based Performance Reviews and co-author of Competency-Based Resumes.
---
Click to buy Competency-Based Interviews, Revised Edition
---