Posted by Elena del Valle on October 15, 2012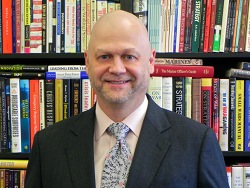 Helio Fred Garcia, author, The Power of Communication
Photo: Newman Communications
A podcast interview with Helio Fred Garcia, author, The Power of Communication (see Executive endorses strategic, operation, tactical communication) is available in the Podcast Section of Hispanic Marketing & Public Relations, HispanicMPR.com. During the podcast, he discusses ways to win hearts and minds with Elena del Valle, host of the HispanicMPR.com podcast.
For more than 30 years, Fred has helped leaders build trust, inspire loyalty and lead effectively. He is a coach, counselor, teacher, writer, and speaker whose clients include some of the largest and best-known companies and organizations in the world.
Fred is the president of Logos Consulting Group and executive director of the Logos Institute for Crisis Management & Executive Leadership. He is based in New York and has worked with clients in dozens of countries on six continents.
To listen to the interview, scroll down until you see "Podcast" on the right hand side, then select "HMPR Helio Fred Garcia" or click on the play button below. You can also download the MP3 file to your iPod or MP3 player to listen on the go, in your car or at home. To download it, click on the arrow of the recording you wish to copy and save it to disk. The podcast will remain listed in the October 2012 section of the podcast archive.
---