Posted by Elena del Valle on July 22, 2016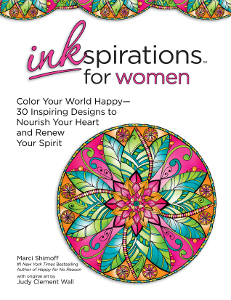 Inkspirations for Women
Photos: Health Communications
Coloring books for adults seem to be popping up everywhere lately. According to one source, in 2015, half the bestsellers on Amazon were adult coloring books (see Science-Backed Reasons To Add Coloring To Your Self-Care Practice by Judy Clement Wall mindbodygreen.com/0-24373/science-backed-reasons-to-add-coloring-to-your-self-care-practice.html). Studies indicate a brief period of art making can reduce anxiety. Some believe coloring makes people better thinkers and helps them to focus effectively.
So when information about a new coloring book arrived in my inbox I decided to take a look. Inkspirations For Women Color Your World Happy – Inspiring Designs to Nourish Your Heart and Renew Your Spirit (Health Communications, Inc. $19.95), the result of a collaboration between Marci Shimoff, author, Happy for No Reason, (see Listen to podcast interview with Marci Shimoff, author, Happy for No Reason about finding happiness) and Judy Clement Wall, a freelance artist, illustrator, and writer, is a softcover publication designed to be completed by coloring aficionado buyers. The project, which features 30 intricate designs of flowers, fauna and meditative mandalas, required four months from conception to publication.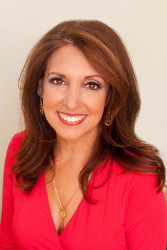 Marci Shimoff
"The idea to do an Inkspirations For Women book came about while I was illustrating HCI Books' first coloring book, Inkspirations For Recovery, which is a book specifically designed for people using the Twelve-Step principles," said Clement Wall by email when asked how she had become involved with the project. "We wanted to do another positive, uplifting book designed to inspire and encourage women."
She and Shimoff, a New York Times Bestselling author, had worked together on other books through their publisher, HCI Books. When asked who might like the book, she said, "I think all women would like it. The illustrations are detailed, but not too complicated – just right for exploring your creativity, unwinding, and focusing inward in a really comfortable, fun way. The quotes and mantras are very inspiring, centered around the subjects of love, hope, dreams, gratitude, and self-belief."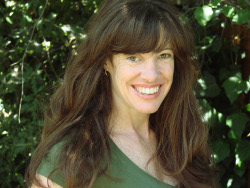 Judy Clement Wall, illustrator, Inkspirations for Women
The biggest challenges to writing, illustrating and publishing the coloring book the illustrator said were, "Learning how to draw for coloring. It's a different kind of illustration. When I draw with the intention of my art being colored, I absolutely have the colorist in mind. I think of the finished pieces as collaborations. Often people post their colored pages to my Facebook wall, and I love seeing them."
The book includes inspiring quotes and motivating mantras from Shimoff on love, hope, gratitude, and dreaming big. It also has an artist how-to section on customizing the art, thick stock paper compatible with colored pencils, markers, or watercolors, and perforated pages to encourage framing or sharing finished pieces.
Clement Wall is working on two more coloring books for HCI and a book of colorable postcards, to be released later this year. Shimoff is also author of Love for No Reason, co-authored six titles in the Chicken Soup for the Woman's Soul series, and is a featured teacher in The Secret. She did not respond to questions for this note. The publisher is planning several more books in the Inkspirations series by different illustrators.
---
Click to buy Inkspirations for Women
---