Posted by Elena del Valle on January 25, 2012

Many people surveyed recently said they love coffee
Photos: Simon & Baker, Starbucks/Business Wire
Americans love their coffee. Forty percent of coffee drinkers that responded to a survey recently said they couldn't live without coffee, even for a week, when compared to a cell phone, romance, sports, and social networking. Forty percent of the survey takers said coffee was more important than showering when asked about their daily routines, according to Starbucks U.S. Regional Roast Preferences Study, Dec. 2011*.
Although the total sales of coffee in 2010 (about $7.6 billion) were 3.7 percent higher than in 2009 and retail sales in 2011 were expected to reach $8.5 billion, representing a 12 percent rise, the increase is due to higher coffee and commodities prices rather than higher consumer consumption, according to Coffee US October 2011 Executive Summary from Mintel.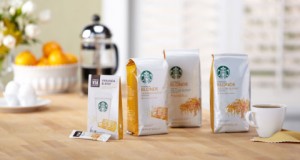 Starbucks Blonde Roast Coffee, available beginning January 10, 2012
Marked increases in commodity prices, the price of coffee beans, energy and other commodities that are needed to transport coffee and market it in retail outlets, were behind the raise in coffee prices. Almost half (48 percent) of coffee drinker respondents to the Mintel report said they are "drinking more coffee at home and less coffee away from home this year than last year." Mintel researchers believe that trend will probably continue through 2012.
At home consumption of coffee may be tempered by dissatisfaction regarding choices on the part of some consumers. One of every four shoppers leave the coffee aisle without buying coffee because "either they can't find what they're looking for, or the premium coffee section doesn't make sense to them," according to a Starbucks press release this month citing SmartRevenue Coffee/Tea Aisle Path to Purchase Research, May 2011*.
Given the flat sales it may be that coffee makers and sellers are trying to expand their market share. Starbucks seems to be. The international coffee mega brand known for its medium and dark roast coffee launched Starbucks Blonde Roast Coffee, a new light flavor, January 10, 2012 hoping to capture part of the 54 million coffee drinkers domestic market who say they prefer a lighter roast coffee (Starbucks Consumer Research 2010*).
"It took eight months and more than 80 different recipe and roast iterations before we landed on the exact flavor profile our customers told us they were looking for," said Brad Anderson, master roaster, Starbucks.
Brad Anderson, master roaster, Starbucks
"Starbucks Blonde Roast is our answer to providing a premium lighter roast coffee to appeal to those that describe Starbucks signature roast as too intense," said Jeff Hansberry, president, Channel Development for Starbucks. "This new roast profile will allow us to increase our share of the brewed coffee market down the grocery aisle where a majority of coffee sales are in the light and medium roast categories. This segment of the market represents a $1 billion opportunity for the company in the U.S. alone."
It's no accident Starbucks is banking on another variety of roast coffee. Roasted coffee remains king. Retail sales of roasted coffee reached nearly $5.9 billion in 2010, representing a 4 percent increase from the previous year while instant coffee sales rose 0.5 percent and ready to drink coffee sales grew 5.2 percent during the same time period, according to Mintel. The research company's experts anticipate that the roasted category will be the primary driver of sales gains in 2011.
*A Starbucks spokesperson declined to provide copies of the reports or the executive summaries of the reports. Instead she indicated by email that the "Data was collected from a U.S. Census representative sample of Americans ages 18+."