Posted by Elena del Valle on November 12, 2012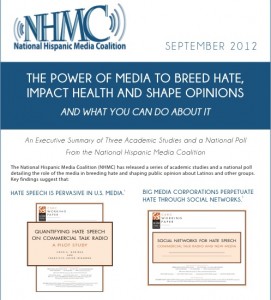 Earlier this year the National Hispanic Media Coalition (NHMC) released the findings of academic studies and a national poll that outline the role of the media in "breeding hate and shaping public opinion about Latinos and other groups." The organization's leadership believes the research presented "underscores the need for accuracy and fairness in our media."
The research indicates that hate speech on commercial talk radio has led to social network interest in the radio program hosts and their guests; and that this social network passes its content to affiliated social media websites, resulting in voices promoting hatred toward people of color, people of certain religions and LGBT people. According to the report, "Media personalities and political figures representing the Republican Party and/or affiliated with the Tea Party dominate the social network, leaving little room for alternate points of view. Media powerhouses such as Premiere Radio Networks, a wholly-owned subsidiary of Clear Channel Communications, and Fox News are key components of this social network."
A poll of non-Latino Americans found that their source of news is often television. Sixty six percent of respondents to the poll said they watch major network and cable newscasts for information and 30 percent said they trust Facebook, Twitter, and other social networks or online-only news sources. These individuals rely on news and entertainment media in forming impressions about Latinos and immigrants, according to poll analysts. The poll led researchers to conclude that Latinos and immigrants are commonly portrayed negatively in news and entertainment media prompting many non-Latinos to believe that "media-promoted negative stereotypes about these groups are true."
The poll analysis indicates that conservative talk radio and Fox News audiences while less likely to be personally familiar with Latinos are more likely to hold anti-immigrant and anti-Latino views. Some survey respondents erroneously, according to the executive summary, believe that Latinos and undocumented immigrants are the same, and 17 percent of survey respondents said they believe that the majority of United States Latinos are undocumented.
The results of the studies were published in the UCLA Chicano Studies Research Center. They are: Quantifying Hate Speech on Commercial Talk Radio from November 2011,  Social Networks for Hate Speech Commercial Talk Radio and New Media from July 2012 by Chon A. Noriega, director, UCLA Chicano Studies Research Center, and Francisco Javier Iribarren and Using Biological Marketers to Measure Stress in Listeners of Commercial Talk Radio by Hermes J. Garban, Iribarren and Noriega.
The UCLA Chicano Studies Research Center supports interdisciplinary, collaborative, and policy-oriented research. The W.K. Kellogg Foundation provided support to make the research possible. Matt A. Barreto, Sylvia Manzano, and Gary Segura of Latino Decisions produced and designed the research study, and implemented the data collection. The National Hispanic Media Coalition was founded in 1986 to increase positive portrayals of Latinos in media, based on a fundamental understanding that the media has the power to shape opinions of and behavior towards Latinos and other demographic groups.