Posted by Elena del Valle on February 14, 2011
A box of chocolates for Valentine's Day
Photos: Conrad Miami
Valentine's Day was declared in A.D. 496 by Pope Gelasius I. Although most of us know little or nothing about the pope the date has become popular as a day to express love and appreciation to those close to us. In the 1840s, a daughter of Massachusetts, is thought to be the first to sell mass-produced valentine cards. The tradition lives on with many people setting aside the day to celebrate love.
Thinking of selling a love related product or service? These figures may interest you. In 2008, 66.9 million opposite-sex couples lived together. In 2009, 2.1 million marriages (about 5,800 a day) took place in the United States; many of them in Nevada. That year 108,150 marriages took place in that arid state, making it the fifth nationally in marriages, even though its total population that year among states was 35th; California ranked first in marriages, according to the National Center for Health Statistics.
In 2010, first marriages took place at a median age of 28.2 and 26.1 years for men and women, respectively. Last year, 54.1 percent of adults responding to a national survey said they were married, according to Families and Living Arrangements: 2010.
At the same time the businesses that offer Valentine's type products and services employ many people across several business sectors. For example, in 2008, there were 1,317 companies that produced chocolate and cocoa products (in 2009, Americans ate 23.4 pounds of candy per person, according to the Current Industrial Reports, Confectionery: 2009), employing 38,369 people. California led the nation in the number of chocolate and cocoa manufacturing establishments, with 146, followed by Pennsylvania, with 115; there were 422 establishments that manufactured non chocolate sweets products. They employed 16,860 people. California led the nation in this category, with 47 establishments, according to County Business Patterns: 2008.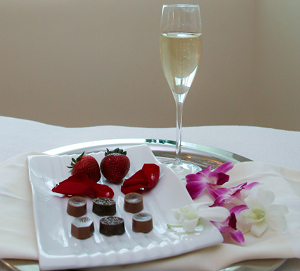 The Spa at Conrad Miami is offering red rose promotions for Valentine's Day
Beyond eatables there are many businesses that cater to love birds. Flower, cards and jewelry sellers figure prominently around this sweetheart centered holiday. The combined wholesale value of domestically produced cut flowers in 2009 for all flower-producing operations with $100,000 or more in sales was $359 million (domestic roses accounted for $18 million); again California took the lead, alone accounting for $269 million of the sales (Source: USDA National Agricultural Statistics Service). In 2008, there were 18,509 florists nationwide which employed 89,741 people, according to County Business Patterns.
In 2008, there were 26,683 jewelry stores in the United States. In February 2010, the stores sold $2.4 billion in merchandise, according to County Business Patterns.
Businesses of other types also promote romantic packages or simply Valentine's Day themed products and services. For example, the Spa at Conrad Miami hotel in Florida is offering red rose promotions between $120 and $200. These include a 60-minute aromatherapy massage and 30-minute organic sweet red rose facial; a 30-minute aromatherapy massage and 60-minute organic sweet red rose facial; and a Champagne mimosa manicure and pedicure and 30-minute organic sweet red rose facial.
Still looking for love? In 2007, there were 393 dating service companies including internet dating services, employing 3,125 people and making $927 million in revenue (source: 2007 Economic Census).