Posted by Elena del Valle on June 22, 2011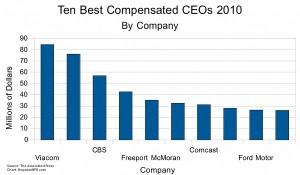 While many people worry about the state of the economy, unemployment (5 million jobs were lost in 2009 alone), outsourcing overseas and inflation a miniscule group is thriving in corporate America. Among some Standard & Poor's 500 companies chief executive officers (CEOs), especially those in the entertainment industry, life is increasingly good. That is because they were compensated (e.g. salary, bonuses, perks, stock options) more handsomely in 2010 than in 2007 when the economy and the stock market were thriving and unemployment was half of what it is now.
Their executive compensation was 24 percent higher and in some cases much more than a year earlier. The average reward for CEO work in 2010, according to an Associated Press analysis based on Equilar (an executive compensation firm) data, was $9 million. That was the highest average CEO compensation on record since the media company began its analysis in 2006 (what are the chances it was higher prior to that?).
Employee salaries did not remain stagnant over the same time period. Pay increased 3 percent or twice the rate of inflation for workers in 2010, reaching an average of $40,500. To put that into perspective the average wage of an employee was less than one-half of one percent of what the typical CEO was paid, according to that analysis.
According to a The Washington Post article published this week, "The evolution of executive grandeur — from very comfortable to jet-setting — reflects one of the primary reasons that the gap between those with the highest incomes and everyone else is widening." The article goes on to say that in 2008 the top tenth of one percent of the population received more than 10 percent of the personal income ( $1.7 million or more) in the country, including capital gains, and the top one percent accounted for more than 20 percent.
An analysis of tax returns by economists Jon Bakija, Adam Cole and Bradley T. Heim points to executives from companies in a broad range of industries. Of the highest earners 41 percent were executives, managers and supervisors at non-financial companies. Almost half of them made their income from their ownership in privately-held firms, 18 percent were managers at financial firms or financial professionals. Almost 60 percent fell into those two categories.
The Associated Press analysis indicates some executives received a significantly higher compensation package than in previous years. For example, the CEO of Viacom (owner of MTV, Nickelodeon and Paramount) was the best paid from the list in 2010. He had a benefits package worth $84.5 million or two and a half times better than the previous year. Six of the top ten paid CEOs were from the media or entertainment industries. They are the CEOs of CBS, Discovery Communications, Comcast, Walt Disney,  Time Warner and Viacom.
The companies with the top 10 compensated CEOs, according to the Associated Press research, are (in descending order): Viacom, Occidental Pretroleum, CBS, Discovery Communications, Freeport McMoran Copper and Gold, Stanley Black and Decker, Comcast, Walt Disney, Ford Motor, and Time Warner.