Posted by Elena del Valle on March 23, 2012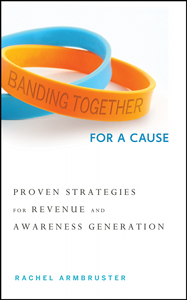 Banding Together for A Cause book cover
Photo: Newman Communications, Inc.
Nonprofit organizations are often in need of funding and public relations on a shoestring. Drawing the attention of the public and potential donors to their cause or organization requires time, effort and the right mix of positioning and branding. Ribbon and wrist band campaigns have become a common way to bring people together and catch attention in an easy and affordable way. For many people wearing wrist bands for a cause or as a reminder of something important to the wearer gained great momentum years ago thanks to the Lance Armstrong Foundation.
Lance Armstrong, the world famous cyclist, brought sympathy and attention to cancer and his race by wearing a yellow wristband in one of the best known awareness campaigns of the past decade. The Livestrong campaign, created to raise money for the Lance Armstrong Foundation and cancer research, reached its goal within six months and has raised more that $500 million for the cause.
"If I hadn't personally been involved in the campaign. I almost wouldn't believe it," said Rachel Armbuster, former director of development for the Lance Armstrong Foundation (2000-2006), overseeing all fundraising and managing the Nike relationship that created the Livestrong gel bracelet campaign.
In her recently published book, Banding Together for a Cause: Proven Strategies for Revenue and awareness Generation (Wiley, $45), Armbuster set out to provide insights and pose questions to guide others who wish to embark on their own yellow wristband journey. Through her efforts she hoped to assist others seeking ways to generate funding through partnerships.
The 232-page hardcover book is divided into nine chapters: The Importance of Time in Moving Your Mission Forward, Reflecting the Essence and Spirit of Your Organization Through Banding, The Right Partnerships, Pinpointing Experts and Using Their Strenghs, The Role of Strategic Planning in Your Mission's Success, Assembling the Perfect Team, Strategies for Integrating and Mobilizing, Creating Feedback Mechanisms, and What It Takes to Be a Visionary.
The author believes better branding can be accomplished by following the process, focusing on improvement and having passion for the relationships that pave the way for success. It is important to be a leader and to be discriminating in your use of resources, she says in the book.
Armburuster is an executive nonprofit strategist and founder for Armbruster Consulting. According to her bio, she has provided consulting services to hundreds of organizations seeking to improve goals actualization, program management, development and training, department integration, or corporate partnership program development. She lives with her husband and two sons in Austin, Texas and serves on the Fertility Advisory Committee at Livestrong.
---
Click to buy Banding Together for a Cause
---