Posted by Elena del Valle on June 28, 2013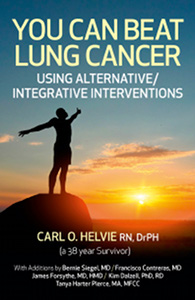 You Can Beat Lung Cancer
Photos: Carl Helvie, Francisco Contreras, Tanya Harter Pierce, Bernie Siegel

Carl Helvie, RN, DrPH, now 81 years old, was told 38 years ago that he had lung cancer and only six months left to live. He recovered with alternative healing methods in lieu of traditional cancer medical treatments such as surgery and chemotherapy. Today, he's healthy, takes no prescription medications and is one of the longest living cancer survivors, according to You Can Beat Lung Cancer: Using Alternative/Integrative Interventions (Ayni Books, $26.95). The 312-page softcover book published this year is divided into four main sections: an overview of lung cancer, the author's own experience, medical issues, and holistic treatment options.
"Harsh chemicals, devastating surgeries and painful procedures for conventional cancer treatment are not your only option," said Helvie in a press release. "I saw that lung cancer survival rates had not changed over time and wanted people to know there are other non-toxic, non-invasive treatment options that are successful and I could speak as both a profession health care provider and educator and also as a long term survivor who use non-toxic interventions," he said by email when asked why the wrote the book now.
Helvie relied on holistic natural methods to treat his condition: supplements, herbs, enzymes, diet, prayer and meditation. His quality of life since the diagnosis of lung cancer has been superior than people often expect at his age. He points out that many older Americans have some form of chronic illness and by age 75 may be taking five prescribed medications daily.
Helvie is not surprised by the recent findings of a team of researchers in Washington State who discovered that chemotherapy fuels the growth of cancer cells, making it more difficult to destroy them in subsequent sessions.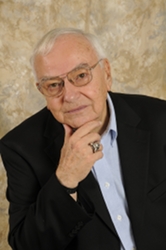 Carl Helvie, RN, author, You Can Beat Lung Cancer
"No I do not receive money for services or products. As a cancer survivor and registered nurse I believe in helping others and the help I can provide should be offered for free," said the author by email in response to a question about whether he sells products or services to treat lung cancer. "I communicate with around 60 cancer patients monthly and provide encouragement, support, and resources as best meets their needs. God saved my life when I had cancer and I believe in offering whatever I can as futher evidence that God is in all of our lives."
Francisco Contreras, M.D.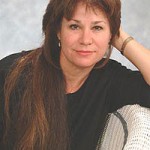 Tanya Harter Pierce, MA, MFCC
A registered nurse with two masters and a doctorate in public health and wellness, Dr. Helvie has decades of experience as a nurse practitioner, educator, author and researcher. According to promotional materials, he has published eight books and was a contributor to others, and has published or presented 100 papers and articles in the United States and abroad. Also, he developed and published a nursing theory used worldwide, and established a nursing center to provide primary care for homeless and low-income individuals and families. He hosts the Holistic Health Show on BBS Radio, counsels cancer patients, markets his books and is in the process of establishing a holistic cancer foundation.
Bernie Siegel, M.D.
Francisco Contreras, M.D., president and chairman, Oasis of Hope Hospital; Kim Dalzell, Ph.D., RD, LD, who has helped people with nutrition and cancer; James Forsythe, M.D., HDM, who practices integrative medical oncology and anti-aging medicine; Tanya Harter Pierce, MA, MFCC, author, Outsmart Your Cancer; and Bernie Siegel, M.D., a physician and author, also contributed to the book.
---
Click to buy You Can Beat Lung Cancer
---