Posted by Elena del Valle on July 23, 2012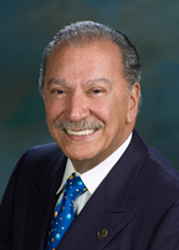 Eduardo Caballero, co-owner, Caballero Spanish Media
Photo: BigVoice Communications
Entrepreneurs Eduardo Caballero and Peter Spengler of Coral Gables, Florida are owners of Caballero Spanish Media (CSM) founded in 1973. They plan, subject to regulatory and other approvals, to buy nine television stations in Texas and Central California targeting local Mexican-Americans, growing from two staff to eight or more depending on market conditions at the time of the purchase.
Following CSM's acquisition, the local stations are expected to broadcast a new portfolio of original Spanish language content produced in Northern Mexico and the United States for the domestic Spanish dominant Mexican consumer, offering popular and traditional music formats and health programming.
"With the broadcast media landscape undergoing drastic changes and audiences becoming more fragmented, this is a great time to offer a rich variety of music and entertainment to a growing Hispanic market and better meet the needs and wants of our audience" said Eduardo Caballero, president, CSM.
"We believe that the concentration, and homogeneity of these areas (being made up almost entirely of Mexican-Americans) gives us the unique opportunity to serve this market separately from the rest of the Hispanic population of this country."
The Texas stations are KGBS-CA in Austin and KGMM-CA in San Antonio. The California stations are KMMC-LD in San Francisco, KMMA-CD in San Luis Obispo, KZMM-CD in Fresno, KMUM-CA in Sacramento, KMMD-CD in Salinas/Monterey, KMMW-LD in Stockton, KQMM-CD in Santa Maria, and KVMM-CD in Santa Barbara to be operated by CSM under a Local Marketing Agreement.
Currently the stations reach an estimated 1.1 million Hispanic households in Central California and 600,000 in San Antonio and Austin. The buyers goal is to grow the audiences significantly in both markets.