Posted by Elena del Valle on March 26, 2015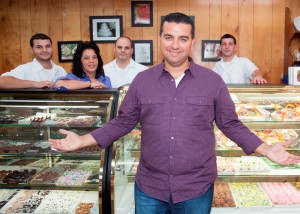 Buddy Valastro, host of Bakery Boss – click to enlarge
Video, photo: Discovery Familia

Interested in capturing the attention of women between 18 and 49 years of age Discovery Familia will air 13 one hour episodes, dubbed into Spanish, of Bakery Boss Mondays at 10 p.m. E/P starting March 30, 2015. The series, new to Discovery Familia, stars Buddy Valastro (Cake Boss) as he visits bakeries on the verge of bankruptcy around the country. Scroll down to watch a short video promotional clip in Spanish.
The show, produced by High Noon Entertainment, first aired in English on TLC in the United States in December 2013. It was filmed mostly in New York. Some filming also took place in Miami, Philadelphia, and Houston.
The show features the story of Pastry Is Art, a Miami bakery owned by Jenny, a Peruvian immigrant. She opened the businesses with her sister to discover work and family are not always a good match. In another episode, the host visits with Kristi, owner of Kristi G's Cupcakes & More in Dallas. A former business executive, Kristi quit her job to open her own bakery, but business hasn't been going so well, and she has serious problems with her employees, all relatives. According to promotional materials, in the stories showcased, Valastro listens to the owner's problems, observes their operations, and advises the families on the best way toward financial success.
Valastro, a fourth generation baker born into the business owned and operated by his parents, grew up in New Jersey in an old fashioned Italian family. With the help of his family, Buddy grew Carlo's Bakery, expanding outside of Hoboken for the first time. In 2013, Buddy and his family opened three new bakeries in New Jersey. He also opened his first restaurant, Buddy V's, in the Venetian Las Vegas.
Part of Discovery Communications, Discovery Familia is a Spanish language network dedicated to "Hispanic women and the things they that matter in their lives." Daytime programming is dedicated to children aged two to six. In the evening, the channel offers programming for women, focusing on home décor, food, health, beauty and parenting.